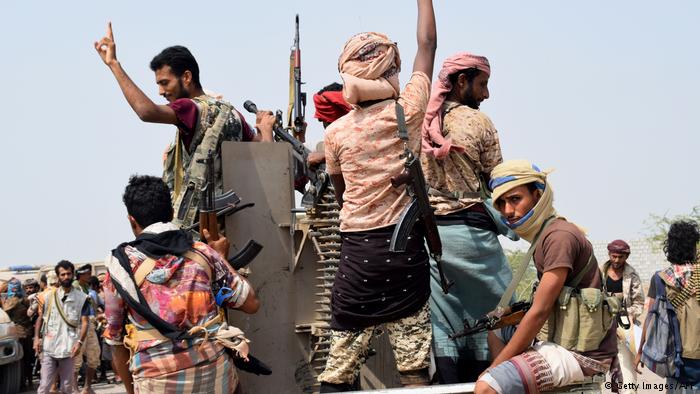 Amnesty International has warned Houthi rebels not to use hospital patients as human shields. The call came as fighting in Yemen intensified as government forces closed in on the strategic port city of Hodeida.
As government soldiers closed in on rebel forces in Yemen's port city of Hodeida on Thursday, dozens of combatants were killed according to hospital sources.
Medical personnel at hospitals inside the city reported that 47 rebels had been killed in overnight ground fighting and air raids by a Saudi-led coalition supporting the government.
Meanwhile, Amnesty International said Yemen's rebels had taken up positions on a hospital rooftop in Hodeida that a Saudi-led coalition has been trying to capture for the past week.
Samah Hadid, an Amnesty official, said that the Houthi's presence on the hospital rooftop "violates international humanitarian law, but this violation does not make the hospital and the patients and medical staff lawful targets" for the coalition.
Hadid also said the hospital was full of wounded "civilians who have nowhere else to go for lifesaving medical care. Anyone attacking a hospital under these conditions risks responsibility for war crimes."
Amnesty was urging both sides in Yemen to protect civilians.
Control of Hodeida is crucial because nearly 80 percent of Yemen's commercial imports and practically all UN-supervised humanitarian aid pass through the city.
Defense minister replaced
Yemeni President Abed Rabbo Mansour Hadi replaced the defense minister and the army chief of staff on Thursday, as government forces press a five-month assault on the rebel-held port of Hodeida, state media reported.
Hadi named Mohammed al-Maqdashi as defense minister to replace Mahmoud al-Subaihi, who has been detained by the rebels for years, the government-run Saba news agency reported.
The naming of a replacement comes days after neutral Oman intervened in an attempt to secure Subaihi's release. Hadi also named Abdullah al-Nakhii as chief of staff.
The World Health Organization estimates that nearly 10,000 people have been killed since 2015, when Saudi Arabia and its allies intervened after Hadi fled into exile.
Human rights groups say the real death toll could be five times as high.