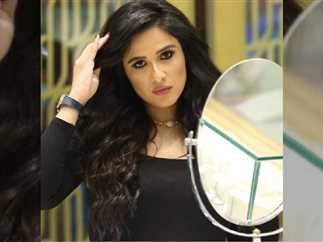 Yasmine Abdel Aziz topped the list of searches on Google on Friday, after appearing video clip on Instagram with artist Khaled al-Sawy while promoting her upcoming Ramadan series "Elli Maloosh Kebir".
The duo appeared in a fun video that quickly went viral on social media.
In the video, Sawy appears next to Abdel Aziz and expressed his happiness to work with her and the crew of "Elli Maloosh Kebir" series. He confirmed that the series would be a surprise to their fans.
Sawy said during the video: "Ahmed al-Awady is so good, the director is so good, and the writing is amazing. Wait for a series that you will like."
Abdel Aziz had already revealed her character in the series when she posted a photo from the series on her Instagram account commenting "Ghazal, Elli Maloosh Kebir." Ghazal is her character's name.
The series will bring Yasmine Abdel Aziz and her husband actor Ahmed al-Awady together on the screen for the first time after their marriage. The series is starring Mahmoud Hafez, Khaled al-Sawy, Donia Abdelaziz, Ahmed Abdallah Mahmoud, Ahmed Saeed Abdel Ghany, Iman al-Sayed, Badriya Tolba, and Aida Riad.
It's directed by Mostafa Fekry and written by Amr Mahmoud Yassin.
In the series, Abdel Aziz abandons the social drama through which she appeared last season, and presents a work full of excitement, suspense, and action in a social comic outline.
Edited translation from Al-Masry Al-Youm