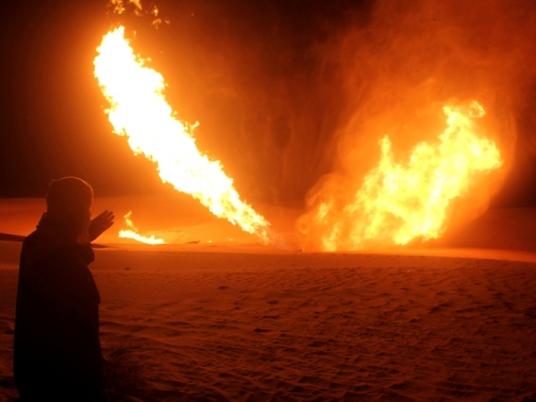 Anonymous masked men blew up a portion of the natural gas pipeline running from Sinai to Israel and Jordan Thursday for the seventh time since the 25 January revolution. The saboteurs wrote a message in the sand near the pipeline that read: "We won't allow gas to be exported to Israel."
The Petroleum Ministry has announced it will temporarily suspend gas flow in Sinai as a result.
Seven bombers, including two Bedouins, were responsible for the attack, which they launched at dawn in Beni al-Mazar village west of Arish, a city in North Sinai, said security sources. The attackers reportedly placed the explosives in a two-meter hole they dug beside the pipeline and detonated them remotely.
The bombers were likely religious extremists, said the security sources, stressing that an appropriate strategy must be developed in coordination with the region's residents to counter these elements and abort their attempts to destabilize the region and target its vital interests.
Flames raged dozens of meters into the air at dawn, making it difficult to approach the scene, eyewitnesses told Al-Masry Al-Youm, the first newspaper to reach the bombing site.
Shortly after midnight Thursday, two sport utility vehicles (SUV) carrying masked gunmen could be seen heading toward the pipeline's location in the desert, the eyewitnesses added.
The head of the Egyptian company responsible for pumping natural gas through Sinai, GASCO, said the pipeline's temporary shutdown is for security reasons.
"This is a preventive measure aimed at ensuring the integrity of the pipeline and that the fire has not reached other areas," said company head Magdy Tawfiq.
The Sinai gas pipeline has been a target for attacks by saboteurs since the overthrow of Mubarak in February.
Egypt and Israel signed a 20-year natural gas deal in 2005, stipulating that Egypt would supply the Jewish state with 1.7 billion cubic meters of natural gas a year. The deal has been widely unpopular with the Egyptian public, with critics arguing that Israel was offered gas at a below-average price.
The Egyptian government announced this month that it would tighten security measures around the pipeline by installing alarms and assigning security patrols from local Bedouin tribes.
Translated from the Arabic Edition