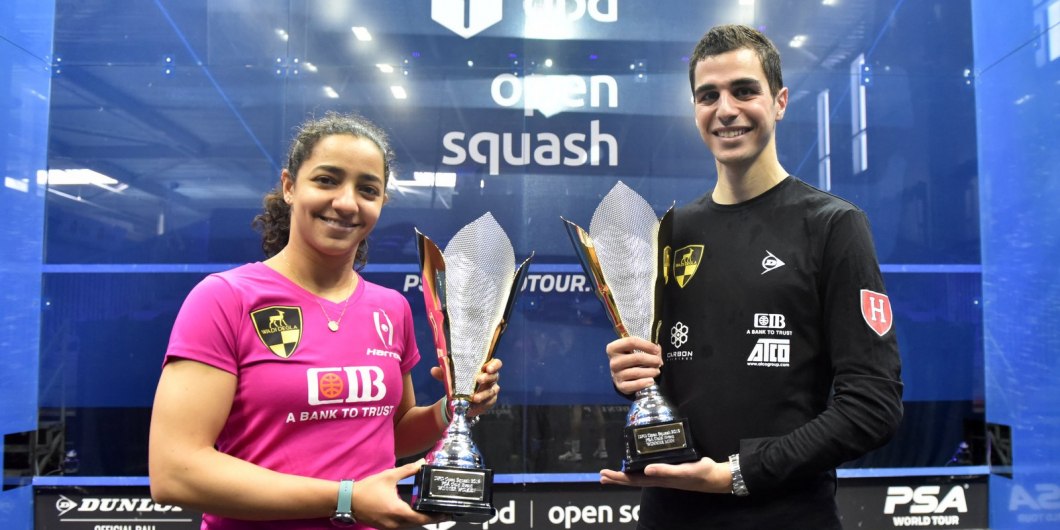 Egypt's Ali Farag and Raneem El Welily, the world's current number one male and female squash players, won the 2019 DPD Open Squash championship after claiming respective wins over Mohamed El Shorbagy and Nour El Sherbini in Eindhoven, Netherlands.
The PSA World Tour Gold tournament took place at the brand new DPD headquarters, marking the grand opening of their new distribution center. Two Egyptian World No.1s won the inaugural titles.
World No.1 El Welily claimed her second successive PSA title after her win last month at the Black Ball Squash Open. She came back from from 2-0 down to win 10-12, 9-11, 11-8, 11-8, 11-8 against reigning World Champion El Sherbini.
El Welily, with five games in all of her matches in Eindhoven, held numerous game balls during the first. El Sherbini then rattled off the points in quick succession, eventually winning the opener on a tie-break.
The three-time World Champion then doubled her lead in the second. El Welily battled back to claim her 21st PSA title.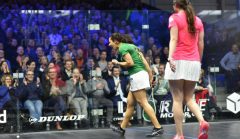 "The five-setters really paid off eventually," said 30-year-old El Welily. "To come back from 2-0 down against Nour is almost impossible, mentally at least, so I'm really happy with the way I managed to push myself mentally and physically and show some character towards the end.
"After I lost the first when I was 10-5 up, I thought I blew it up, but I just told myself it's not the end of the world. Just keep pushing. You need to come off court doing your best, if you mess things up sometimes you fight hard to make things right again."
The world's current No.1 and World Champion Farag outplayed rival El Shorbagy to claim the men's title.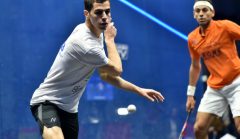 It was their first meeting since January's J.P. Morgan Tournament of Champions final where Farag won to take the World No.1 spot from El Shorbagy. Farag extended his dominance with a 3-1 win.
The first game looked as though it would set the tempo for the rest of the match, reaching a tense tie-break won by El Shorbagy. Farag came out firing in the second and controlled the rest of the match to take an 11-13, 11-6, 11-4, 11-4 victory.
"The first game was really tough and it was a tough one to lose," said 26-year-old Farag afterwards.
"I'm glad I regrouped myself. And Nour [El Tayeb] gave me a very good tip after the first. It's always a pleasure to share the court with someone who is one of the greats of our sport and I'm looking forward to many more battles in the future.
"He was No.1 when I was starting so Mohamed is always going to be favorite. I don't put much pressure on myself but obviously I'm very happy with the way I handled things. I think I played good squash and I'm looking forward to taking that on next week in El Gouna."
The next PSA World Tour tournament will be the El Gouna International in Egypt between April 17 and 26.
Results: DPD Open Squash Men's Final
[1] Ali Farag (EGY) bt [2] Mohamed ElShorbagy (EGY) 3-1: 11-13, 11-6, 11-4, 11-4 (46m)
Results: DPD Open Squash Women's Final
[1] Raneem El Welily (EGY) bt [2] Nour El Sherbini (EGY) 3-2: 10-12, 9-11, 11-8, 11-8, 11-8 (65m)