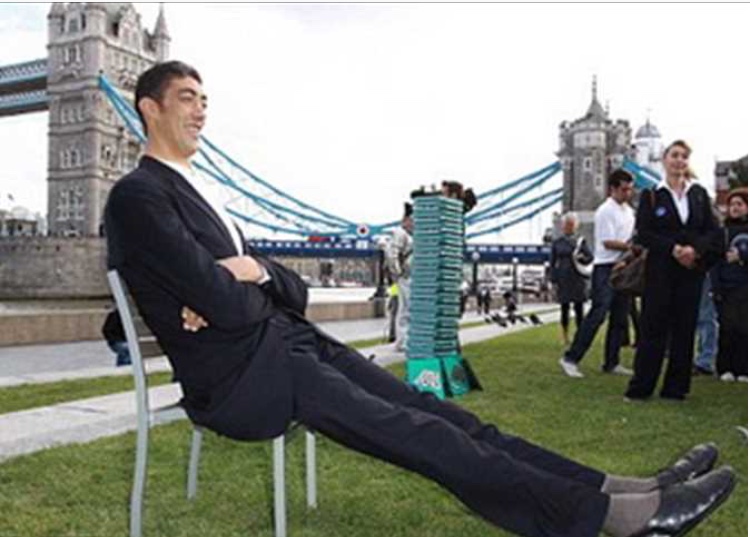 The world's tallest man, Sultan Kosen of Turkey, arrived in Egypt on Friday morning from Istanbul to join the world's shortest woman, Guinness World Records holder Jyoti Amge of India, who arrived on Thursday, on a tour to Cairo's most famous sites, in an attempt to help boost tourism in Egypt, reported Al-Masry Al-Youm.
Kösen was greeted by Nesreen Othmali, head of the Egyptian Tourist Authority. Kösen and Amge will be staying in Egypt between January 26-29.
Beyond the tour, Kosen and Amge will be taking part in a conference at the Fairmont Nile City Hotel, Cairo, where they will both share inspirational stories about their lives and challenges they have faced.
Both record-holders won their records in 2011, with Kosen being measured at 243 cm (7 ft 9) tall and Amge being only 62.8 cm (2 ft 06) tall, according to the Guinness World Records official website.
Kosen was first measured in Ankara Turkey in 2011 and was the first to be measured by Guinness in over 20 years.
Guinness World Records has recorded only 10 people in history to reach 8 ft in height or more. Kosen took the title from Chinese Xi Shun, who measured in 2005 7 ft 8.95 inches.
Kosen also holds the record of the largest hands of a living person, with each hand measuring 28.5 cm from the wrist to the tip of the middle finger, in addition to previously also recording the largest feet of a living person.
The tallest recorded person in history is American Robert Wadlow, who, at 272 cm (8 ft 9), won the record in 1940.
Amge, meanwhile, is an Indian woman who was born in Nagpur, Maharashtra in 1993. She won the record after her 18th birthday in 2011.
She currently works as an actress, in addition to co-hosting a show called 'Lo Show Dei Record', according to the Guinness World Records official website.
The shortest woman of all time was Pauline Musters who was only 30 cm (0 ft .99) at birth in 1876. She died of pneumonia aged 29, and by then climbed to 61 cm (2 ft).