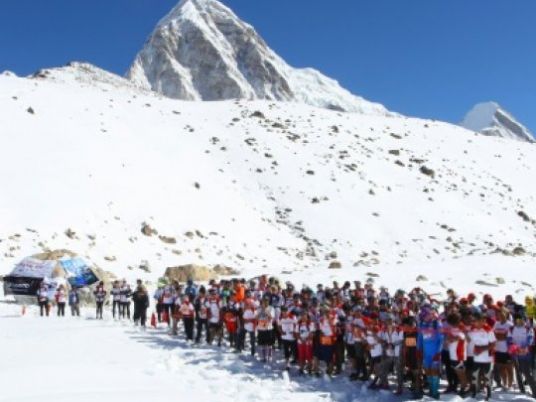 Dozens of runners donned snow goggles and braved icy temperatures to participate in the world's highest marathon in the foothills of Mount Everest on Monday, five months after a 7.8-magnitude earthquake devastated Nepal.
The annual Tenzing-Hillary Everest Marathon, which kicked off in 2003, is usually held in May to mark the anniversary of the first conquest of Everest by Tenzing Norgay and Edmund Hillary on May 29, 1953.
But organizers postponed this year's race to October after a massive earthquake hit the Himalayan nation in April, killing nearly 8,900 people and triggering an avalanche on Everest base camp that left 18 dead.
"We decided not to cancel the race entirely because we wanted to send a positive message about Nepal to the world and help revive our tourism industry," organizer Shikhar Pandey told AFP.
"Everest represents Nepal. We want to tell the world that Nepal is safe by successfully organizing an event like this," he said.
Fifty-four people from countries including the UK, United States, Israel, Poland and Australia took part in this year's race, with half of the participants belonging to Nepal.
Runners in trekking boots kicked off the marathon around 7:00 am (0115 GMT), with the snow-covered trails taking them from Everest base camp at a height of 5,364 meters (17,598 feet) to the finishing line about 2,000 meters below in the Himalayan town of Namche Bazaar.
Nepali soldier Bhim Gurung bagged first place by completing the marathon in four hours, one minute and 54 seconds.
"A race at this altitude is very difficult. I am very happy to have come first," Gurung told AFP.
The air at base camp contains only half as much oxygen as at sea level, leaving many runners gasping for breath on even the slightest incline along 42 km of narrow, rocky mountain paths.
While turnout was far lower than the 150 people who took part last year organizers said they were happy nonetheless.
They describe the route, which weaves past Buddhist monasteries, yak herds and over suspension bridges, as "probably the most adventurous trail run in the world".