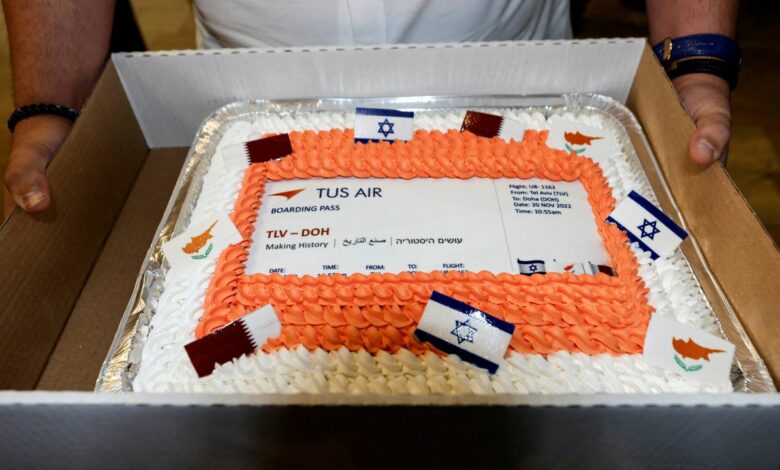 Tel Aviv
CNN
 —  The 180 football fans lined up to check in for their flights to the World Cup aren't just lucky for having scored tickets – they're
making history
.
For the first time direct flights from Tel Aviv, Israel to Doha, Qatar will ferry fans to one of the sporting world's biggest events – and between two countries that have no diplomatic relations.
On Sunday, a festive atmosphere surrounded the passengers, with Israeli officials in attendance, FIFA footballs bouncing between legs, and even a balloon archway and cake at the gate.
"It's historic. We didn't expect this and I don't know if there [will be] another time to do this," said passenger Eli Levin after checking in.
Although Israelis typically can't visit Qatar, as part of the deal with FIFA for hosting the tournament, the Gulf state had to let them in. But the direct flights were not initially part of the plan.
Then in early November, FIFA announced that as part of a deal with FIFA, direct flights from Israel to Qatar would be allowed – as long as Palestinians could fly on them as well.
Normally, Palestinians from the occupied territories can't fly from Ben Gurion airport without hard-to-obtain special permission from Israeli authorities. Instead, they catch international flights via Amman, Jordan, a journey that can take hours with border checkpoints. But with a World Cup ticket, Palestinians will have an easier time obtaining permission to travel from Tel Aviv, after passing security checks.
"With this deal, Israelis and Palestinians will be able to fly together and enjoy football together," FIFA President Gianni Infantino said in a statement lauding the deal. "The World Cup is the ultimate symbol of football's unifying power, and today's historic announcement provides a platform to improve relations across the Middle East."
Cyprus-based TUS Airways – which is operating the six round-trips (12 flights) – initially planned to have a brief "diplomatic" layover in Cyprus for the special flights before continuing onto Doha. Now it'll be a shorter, two hour and 45 minute journey. Demand is so high, TUS Airways Senior Commercial Director Micha Owsinski said, that they're working on adding three more round-trip flights.
"We hope really that it will be a great celebration for soccer. And that these fans here, both Arabs and Jews, Israeli and Palestinians enjoy and really show the good side of sports," Owsinski told CNN.
Most of the passengers on the first flight were Israeli passport holders – not Palestinians from the occupied territories. That's something Amir Assi, who is coordinating Palestinian trips to the World Cup, told CNN was mostly a result of the last-minute announcement of the travel deal.
Most Palestinian fans had booked their travel already through Jordan, he said, but are now hoping to make the trip easier and faster by making the first leg of their trip a flight from Tel Aviv to Amman, instead of traveling by land. Some, though, are still expected to take advantage of the special direct flights.
Assi said he hopes it paves the way for smoother travel for all Palestinians.
"If there had been permission months ago, there would every day be a Palestinian flight. But because we want this pilot [project] to win – even if there are fewer Palestinian passengers, this is still good for the future, a message also … that there should be more cooperation with Palestinians for future flights and events."
Two Palestinian officials who spoke to CNN on the condition of anonymity dismissed the arrangement between Israel and Qatar as any sort of achievement. The officials said the arrangement for Palestinian fans to fly through Ben Gurion came too late and that it won't make a difference for most Palestinians, since a World Cup trip can cost thousands of dollars.
Ahmed Abu Riash, from Ramleh, a mixed Arab-Jewish city in central Israel, told CNN at check-in he was excited for the "rare opportunity."
Abu Riash added that he is happy to see Palestinians from the West Bank traveling on the same flights to Doha with Israelis. "I hope they enjoy it; we are the same; the Israeli-Arabs, the Palestinians from the West Bank, and the Jews, as all the people must be united."
Meanwhile the tens of thousands of Israelis attending the tournament are being told to tone it down and behave. An ad campaign starring Israeli football star Tal Ben Haim warns Israelis against drinking in Qatar or arguing with locals. Advice cards with emergency contact information were handed out at check-in.
Lior Haiat, head of National Public Diplomacy at the Israeli Prime Minister's Office, said they're also asking Israelis not to openly display where they're from while in Doha.
"We ask them to tune down their Israeli appearances. It's not that they should hide it. But we don't think that showing off their Israeli identity will help them while they're there. And this is an important thing, both for their security, but also for them enjoying the games," Haiat said.
Qatar has allowed a small, temporary Israeli consular team to set up in Doha during the tournament to help Israelis – where there is normally no official presence. Palestinians will have access to consular services at the Palestinian embassy in Doha.
Haiat said they hope this temporary consular team will one day turn permanent.
"When we started the Abraham Accords, the idea was to bring other partners to the circle of peace. And Qatar is certainly one of the candidates," he said, referencing the 2020 normalizing agreements between Israel, the United Arab Emirates, Bahrain and Morocco.
But for the fans, their eyes are on the ball – not politics.
"We don't mix politics with the soccer, you know, you get to know the people, the locals. I don't care what they think about politics or nothing. I come to enjoy," Levin said as he prepared to board the first flight from Tel Aviv to Doha.