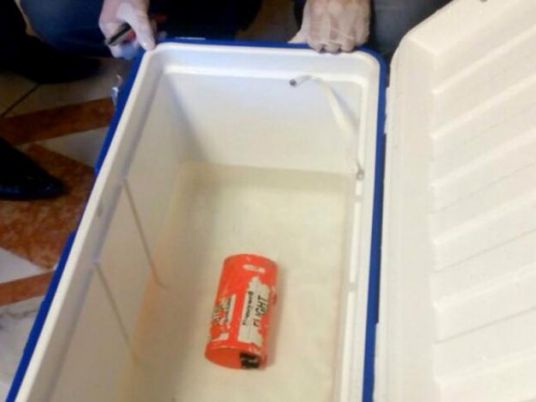 The word "fire" is heard on the cockpit voice recorder of EgyptAir 804 before the plane crashed into the Mediterranean in May, an Egyptian-led investigative committee said Saturday.
Investigators had earlier said the other black box retrieved from the crash site, the data recorder, confirmed that smoke alarms had sounded on board, while soot on wreckage indicates a fire.
"The committee had… started listening to the cockpit voice recordings before the occurrence of the accident; where the existence of 'fire' was mentioned," it said in a statement.
"Still it is too early to determine the reason or the place where that fire started," it said.
The data recorder points to smoke signals indicating fires in the lavatory and avionics section of the plane, according to the committee.
The data on the voice recorder had been downloaded earlier this month after it was repaired.
The Airbus A320 was carrying 40 Egyptians, 15 French, two Iraqis, two Canadians and one passenger each from Algeria, Belgium, Britain, Chad, Portugal, Saudi Arabia and Sudan.
It had set off from Paris to Cairo when it disappeared from radar over the Mediterranean.
Egyptian investigators have confirmed the aircraft made a 90-degree left turn followed by a 360-degree turn to the right before hitting the sea.
The latest committee statement said the search for the remains of passengers has ended.
The ship conducting the search "reached the port of Alexandria today after the end of its mission, which had been extended for the second time, after making sure of the recovery of all human remains at the site of the accident", it said.
Both Egyptian and French judiciary have opened investigations into the mysterious incident, without ruling out a terrorist attack.
The crash followed the bombing of a Russian passenger plane over Egypt's restive Sinai Peninsula last October, killing all 224 passengers and crew.
The Islamic State jihadist group claimed responsibility for that attack, but there has been no such claim linked to the EgyptAir crash.
Egypt's aviation minister had initially said an attack was the more likely explanation, but President Abdel Fattah al-Sisi said there was no theory being favoured yet.
EgyptAir said last week that advance compensation payments of US$25,000 will be offered to families of the 66 people killed in the crash.
The payments are separate to those expected from insurance companies on behalf of various parties depending on the investigation into the disaster.