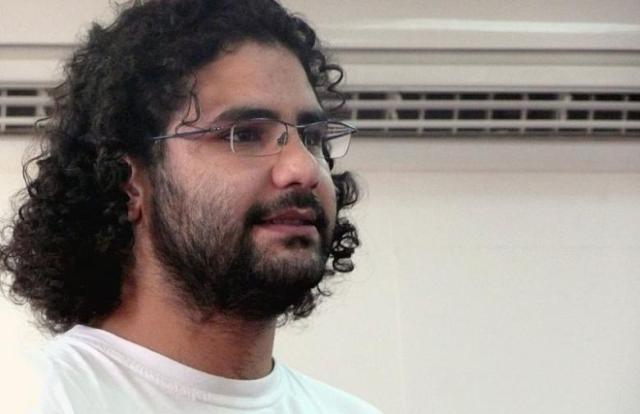 Eyewitnesses on Tuesday told prosecution services in Dokki, Cairo, that activist and blogger Alaa Abd El Fattah had been present at a protest late Monday against former Prime Minister Ahmed Shafiq, which later developed into an attack on his campaign office that caused it to catch fire.
Five Dokki citizens reportedly told prosecutors that they had seen 400 protesters marching towards Shafiq's campaign office, including Abd El Fattah and his sister, chanting slogans against Shafiq.
Witnesses told Al-Masry Al-Youm that Bahaa Bastawisi, one of the suspects who has been arrested by police in connection with the incident, asked Abd El Fattah whether they should set the office on fire, to which, they said, the latter responded positively.
Judicial sources told Al-Masry Al-Youm that the suspects are facing charges of arson, intentional damage to private property, and endangering citizens' lives.
Also arrested was Ahmed Fathi, an Adl Party member and a campaigner for former presidential candidate Abdel Moneim Abouel Fotouh, along with others. Security sources said police will verify witnesses' claims before moving to arrest the rest of suspects.
Police investigations have revealed that the protesting activists object to Shafiq's nomination for presidency, and that five people who were arrested upon escaping the crime scene belong to the Democratic Front Party and the April 6 Youth Movement.
Shafiq's campaigners who were in the office before the fire erupted have said that a civilian warned them one hour ahead that something might happen.
Activists on social networking sites traded jokes about the accusations against Abd El Fattah, deeming them void and unrealistic. Abd El Fattah, alongside his family, is recognized by many for his committed activism and revolutionary stance.
Abd El Fattah was arrested following violent clashes outside the state TV building on 9 October 2011. Twenty-seven civilians and one soldier were killed when the military and police attacked peaceful protesters, most of whom were Copts.
Abd El Fattah was charged, along with 27 other suspects, with the murder of a soldier, stealing weapons from the armed forces and destroying public and private property. His case was eventually shelved since there was not enough evidence to incriminate him.
Edited translation from Al-Masry Al-Youm