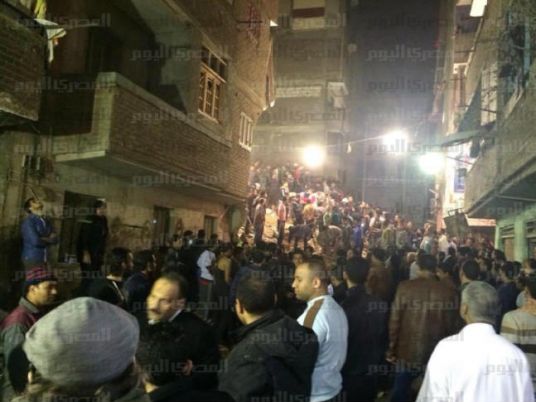 Ahmed, a man in his twenties, describes the very first moments of the collapse of Matariya building saying, "We felt like an earthquake hit the area. Only a few moments, dust came out from Asfour street, as if it was attacking us in the store. Silence prevailed for moments, then screams came out high."
The young man who works in the store facing the street, where the building collapsed, could not realize what was going on in the beginning. He did not believe what happened until other people started shouting to try rescue the victims. They all realized by then that there was a catastrophe, which certainly left victims, injured and missing ones.
At least 19 persons were killed on Tuesday as an apartment building collapsed in the district of Matariya
At 2am, two fire engines arrived at Horriya Street upon being notified over the accident. Once they arrived, the rescuers notified Major General Mamdouh abdel Qader, head of the civil protection department, that the accident requires more equipments and personnel.
Ambulances' sirens wake people at Matariya Square and Horriya street up.
At 2:15am, six inhabitants, who were living in the ground floor, were able to come out from under the debris with help of people. They couldn't believe what happened to them.
At 2:30am, the first victim, who came from under the rubble, refused to be medicated saying, "My family is under..Help them." He started helping others to look for his family. On the other side of the street, five youths were trying to help a man in his forties who could not control himself. His sister and her children were there underground
At 3am, civil protection personnel as well as the residents could manually search for other survivors. The troops requested loaders and other heavy machineries to break the concrete blocks before time passes.
At 3:30am, one of the personnel called for covers. People gave him blankets to cover two dead bodies.
At 4am, Cairo governor Galal al-Saeed arrived at the accident spot. Angry people complained to him about the accident, blaming it on reluctance.
Another hour passed. No survivors were found. Security elements were counting the victims and injured ones.
Neighbors did not accuse anyone specifically. However, they pointed to authorities in question describing them as 'reluctant' in implementing demolition decisions.
"Why wasn't the residents evacuated by force after the demolition decision was made two years ago?"wondered one of the neighbors.
Edited translation from Al-Masry Al-Youm