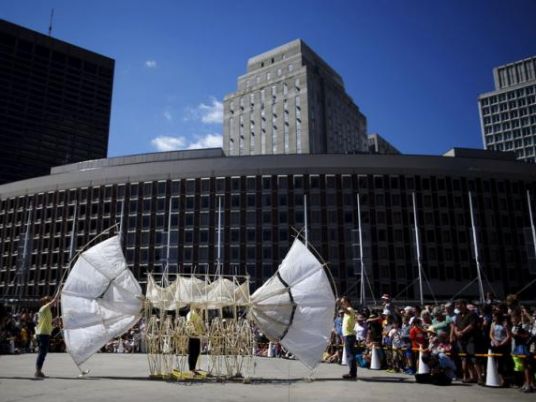 A pair of skeletal sculptures that harness the power of the wind to walk strutted around Boston's City Hall on Friday at the start of the US tour of Dutch artist Theo Jansen's "Strandbeests."
Constructed of PVC tubes and about the size of large sport-utility vehicles, the pair were just a taste of the largest fleet of Strandbeests to go on exhibit at the Peabody Essex Museum in Salem, Massachusetts, north of Boston, next month before heading on to Chicago and San Francisco.
Jansen's vision is that one day herds of the animal-like sculptures would repair eroded beaches, said Trevor Smith, exhibit's curator.
"He had this whimsical observation," Smith said. "Maybe one day we could have an animal that would pile up the sand after storms."
A crowd of hundreds of people gathered to see the sculptures debut.
"It's incredible to see. He is a genius," said Melissa Guimaraes, a 33-year-old high school art teacher, whose 7-year-old daughter, Kanna, had been clamoring to see the "sand monsters" for weeks.
"I'm happy to see my daughter interested in art," Guimaraes said.