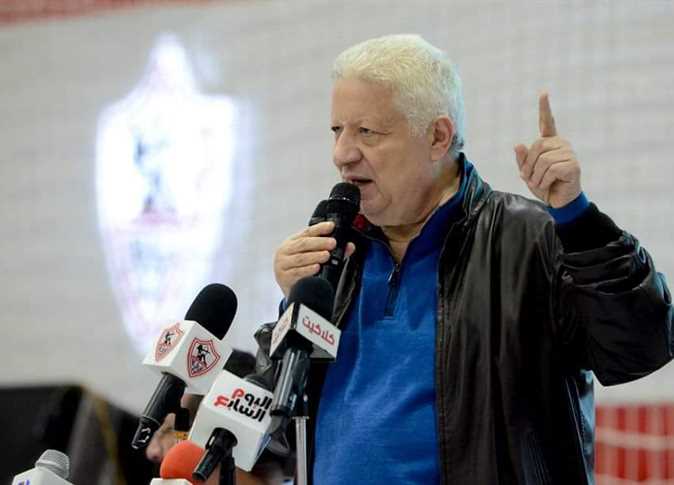 An expert in sports regulations Mohamed Bayoumi revealed that, according to the law, Mortada Mansour can be dismissed from the presidency of Zamalek SC after being convicted over changes of slander.
On Saturday, the Court of Cassation turned down appeals lodged by Mansour against his imprisonment on charges of insulting and slandering the President of Al-Ahly SC, Mahmoud al-Khatib.
The court upheld the previous imprisonment of Mansour, for one month, in a final ruling that is not subject to appeal.
Bayoumi explained, in statements to Al-Masry Al-Youm: "With this ruling, Mansour can be removed from his position. This ruling was issued as a result of immoral behavior that leads to his removal from his position as president of Zamalek Club, and this is according to the guiding bylaws."
He added, "For any ruling that affects reputation, honesty, honor and integrity, the convicted is not entitled to obtain any position in public work."
"Football workers must display pure and honest behavior" Bayoumi stressed.
He added, "If the Zamalek club's board of directors has more than six months left to the end of its tenure, the vice-president takes over the management of the club's affairs until a new president is elected in the nearest general assembly, whether ordinary or urgent."
"If there is less than six months left, the vice-president takes over the management of the club's affairs, until a new board of directors is elected."
Boycotting
The Egyptian Football Association issued a statement through its official accounts on social media, which included the results of the urgent meeting that was held late January at the EFA's headquarters.
In its statement, the EFA announced the halt to any further dealings with Mortada Mansour, president of Zamalek Club.
This is mainly due to his " transgressions" against the association's officials.
The statement said: "dealing has stopped with the president of Zamalek Club and all of his transgressions against the Board of Directors of EFA referred to the Disciplinary Committee," explaining that EFA "reserves its right to escalate, if the violations continued."
Edited translation from Al-Masry Al-Youm