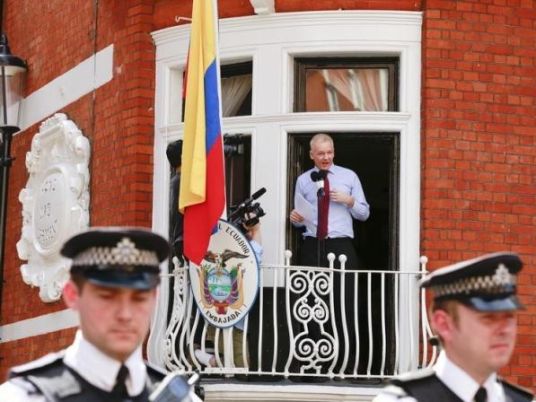 Wikileaks founder Julian Assange said on Tuesday the whistleblowing organization would publish around one million documents related to three governments and the US election before the end of the year.
Assange denied that the release of documents related to the US election was specifically geared to damage Democratic presidential candidate Hillary Clinton, and said he had been misquoted in that regard.
Assange also signaled changes in the way Wikileaks is organized and funded, saying the group would soon open itself to membership. He said the group was looking to expand its work beyond the 100 media outlets it already works with.
He announced the formation of the WikiLeaks Task Force, which will "help defend WikiLeaks against attacks," and asked supporters to join up.
He made the announcements during an address via videolink at the Volksbuhne Theater in Berlin to mark WikiLeaks' 10th anniversary. He could not be at the event in person because he is living under effective house arrest at the Equadorian Embassy in London due to an outstanding warrant for his arrest in Sweden.
British authorities have promised to extradite him to Sweden if he leaves the embassy, and Assange fears that Sweden will then extradite him to US, where he will face charges of espionage.
"WikiLeaks has released 10 million documents over 10 years. That's 10 billion words, averaging 3,000 docs a day," said the WikiLeaks founder, reflecting on the organization's first decade of whistleblowing activity, according to Russia Today.
The new leaks of sensitive documents intended for the final months of 2016 will cover a wide range of topics, including war, oil, Google and mass surveillance.
Clinton 'threatens fee speech'
While Assange has denied that the next batch of leaks are aimed specifically at Hillary Clinton, in a recent ITV interview, he said that Clinton is seen by Wikileaks as a threat to freedom of speech.
"Hillary Clinton is receiving constant updates about my personal situation; she has pushed for the prosecution of WikiLeaks," he said, according to The Express.
"We do see her as more of a problem for freedom of the press generally," he told ITV.
As far back as 2010, Assange was criticising Clinton, suggesting that she should resign as US Secretary of State after information came to light suggesting that she was involved in illegally spying on the United Nations.
"She should resign if it can be shown that she was responsible for ordering US diplomatic figures to engage in espionage in the United Nations, in violation of the international covenants to which the US has signed up. Yes, she should resign over that," said Assange at the time.
More recently, in March 2016, Wikileaks published over 30,000 emails sent or received by Clinton using a private email server while she was Secretary of State, in breach of US government rules on transparency and security. Clinton was being investigated by the FBI over the extent of her transgressions, but no charges were brought against her.
In a shocking claim, Wikileaks has also alleged that Clinton has suggested assassinating Assange in order to remove the threat that he poses to her career.
According to the whistleblowing site, in response to the imminent release of cables implicating her in espionage against the UN, Clinton said, "Can't we just drone this guy?"
In August, the Eduadorian Embassy claimed that someone had attempted to break into the embassy building in London where Assange is staying. The embassy lodged a complaint about the two-hour wait before British police responded to their request for help, amid claims that the break-in attempt may have been an attempt to assassinate Assange.