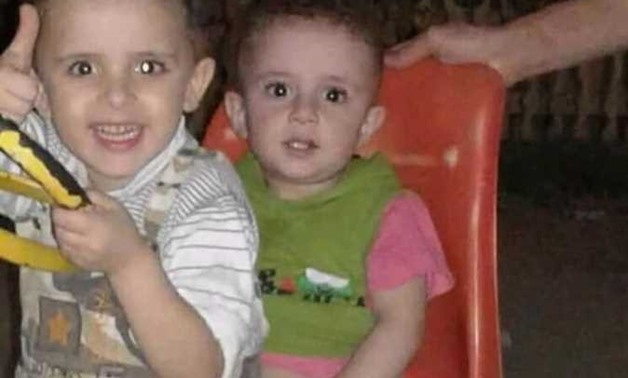 The wife of Mahmoud Nazmy, who was arrested and verbally confessed to killing his two children in August, has denied that her husband was capable of the crime, stressing that his relationship with his sons was "very good".
Nazmy's two children, Rayan, 3, and Mahmoud, 4, were found dead in a water channel in Damietta Governorate that month.
Nazmy initially told police that a strange man stopped him and his children at an amusement park during Eid al-Adha, claiming to be an old school mate.
By the time his conversation with the stranger ended, Nazmy claimed, the children had disappeared. At this point, the father promised a large reward to whoever could find his two sons, or report any information about their whereabouts or abductors.
A few days later, investigations yielded a different story.
At the local police station, Nazmy reported that he in fact killed his two children, throwing them from the top of the Faraskur Bridge, which is 30 minutes away from Mitt Salsil City in Dakahlia, where the family resided.
A security source added that the father's criminal motives have not been yet revealed.
"I know Mahmoud's relation with his children and I know how much he loves them," wife and mother of the two children, Samah Tarek al-Shafei, told Al-Masry Al-Youm before Nazmy's trial session on Sunday.
"I can't believe he could kill them, and I'm sure of his innocence. There is something that pushed him to such a confession against himself. I hope he says the truth at court, and says who killed our children."
Mansour Criminal Court adjourned the trial to Monday, to listen to Nazmy's two brothers Mohamed and Reda. The two were arrested over charges of assembling to protest Nazmy's arrest, following the incident. The court will also hear the testimony of Nazmy's friend, Waleed Mohamed Mosaad.
The court witnessed a heavy security presence, and security forces prevented a large number of residents of Met Selsil city, who came to show support of the defendant, from attending the trial session. The residents waited outside the court while the defendant's wife, sister and a number of relatives were allowed to attend.
A large number of volunteer lawyers attended to defend the accused, and filed various requests to examine the details of how the incident occurred, and how they were found. They also requested interrogating witnesses, and to consult with the forensic doctor who examined the two dead children.
The judge asked the defendant which lawyer he would like to aid his case. He named one, adding that he did not want the rest of the lawyers who volunteered to defend him.
Edited translation from Al-Masry Al-Youm.