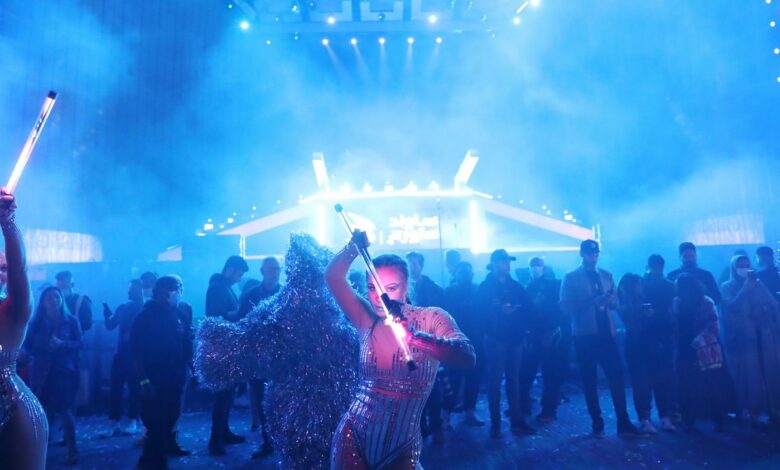 Abu Dhabi, UAE
CNN
 —  Electronic music, strobe lights, glittered faces and hundreds of thousands of people in mixed-gender gyrations are all part of a new kind of ritual in Saudi Arabia that didn't exist just three years ago.
The kingdom's Soundstorm music festival, which began in 2019, is back again for its fourth year and will start on Thursday.
In just five years since Saudi Arabia lifted its ban on musical events, the kingdom's concert scene has arguably outshined even that of Dubai, long seen as the Gulf region's premier entertainment hub.
The country that has been better known as the birthplace of Islam than a rave capital has gone through a tremendous makeover since Crown Prince Mohammed bin Salman (known as MBS) took control of the everyday running of the kingdom in 2017. Soundstorm is an eye-catching symbol of that change.
For three days every winter, hundreds of thousands of people from across Saudi Arabia and the region descend on a desert site outside the capital Riyadh to listen to some of the top Western and Arab acts .
The rave is a manifestation of the ethos behind Saudi Arabia's socioeconomic transformation, according to Anna Jacobs, a senior analyst at the Crisis Group think tank. "(It) is a particularly powerful example because it seeks to bring together young people and women from across Saudi Arabia and the world," she said.
David Guetta, Post Malone and Bruno Mars are just a few of the stars performing at this year's event, which prides itself as being "the loudest festival in the region," aiming to "amplify the unseen" as it supports local and international music in the Middle East. Tickets cost between 149 riyals (around $40) for a single day and 6,699 riyals (around $1,800 ) for a three-day VIP treatment.
The festival reportedly welcomed 730,000 partygoers last year. By contrast, Las Vegas' Electric Daisy Carnival, considered North America's biggest dance music festival, had an attendance of over 400,000 this year.
An event like Soundstorm was inconceivable in the country just six years ago, when the notorious religious police would roam the streets and censure Saudis for mixing with the opposite sex or flouting social norms. But it is now part of a liberalization initiative spearheaded by MBS, the kingdom's de facto ruler. It accompanies a series of steps to relax social rules, including lifting the ban on women's driving and reining in the religious police.
In 2016, Saudi Arabia established the General Entertainment Authority in tandem with Vision 2030 – the crown prince's plan to diversify its economy beyond oil, which accounts for more than half of the government's revenue. Among its goals was to almost double household spending on cultural and entertainment activities within the kingdom. Riyadh is now seeing more than $64 billion in entertainment investment, reported Arab News, with a significant proportion of that going to the live music industry.
Vision 2030 prides itself on offering "world-class entertainment" and says that it has organized up to 3,800 entertainment events in the country, attended by more than 80 million people.
"The whole principle about allowing festivals is to provide youth with domestic entertainment and local tourism opportunities so they don't need to travel abroad in search of fun," said Ali Shihabi, a Saudi author and analyst.
Some conservatives may find the festival unacceptable, Shihabi said, but given that youth make up the majority of the country's population, they remain the primary beneficiaries.
Around two-thirds of Saudi Arabia's population is 34 years old or younger, according to the Saudi General Authority for Statistics. Analysts say it's the youth that MBS needs to placate, not the conservatives.
Alcohol continues to be banned in the kingdom, as are sexual relations between men, and unmarried couples.
The festival is not, however, without international criticism and accusations of whitewashing the kingdom's human rights record. Last year, Human Rights Watch (HRW) said that performers should either "speak up" about Saudi Arabia's human rights violations or not attend the festival at all.
"Saudi Arabia has spent billions of dollars hosting massive entertainment and cultural events in a deliberate (attempt) to whitewash the country's abysmal human rights record and the Soundstorm music festival is no different," Joey Shea, a researcher at HRW told CNN. "The creation of the country's local entertainment industry was accompanied by waves of arbitrary arrests of dissidents, activists, human rights defenders and ordinary Saudi citizens."
Shihabi rejects the argument that the festival whitewashes the country's rights record, saying that it "has little to do with any global image and is purely focused on servicing local needs."
Mdlbeast, the organizers of Soundstorm, did not respond to CNN's request for comment.
Some however argue that opening up countries to international norms and values can allow for better discussion on human rights shortcomings.
"I think there is a way for these major international events – whether that be the World Cup in Qatar or music festivals in Saudi Arabia – to help open public discourse to critical debate," said Jacobs.
"They can help cultivate healthy criticism and discussion around human rights issues in the region," she added, "and as the Gulf continues to solidify its position as the region's center of gravity, I think this is what we will see."