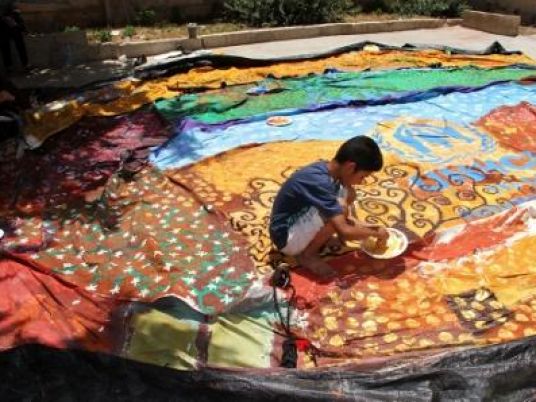 Ever since she was in kindergarten in the Syrian city of Homs, Ibtihaj has dreamed of becoming an artist. She hoped of one day being able to open her own gallery and showcasing her work to the world.
Now 12 years old, Ibtihaj lives in Jordan, one of the more than 3.8 million Syrians who have been forced to flee their homes as a result of the ongoing conflict.
Through her latest creations, proudly displayed on her bedroom walls, it's clear her experiences have had a big impact on her.
"This is a son and his mother praying to God asking him to help Syria," she says. "And this is an eye crying for its country."
Following a visit from a UK artist to Jordan last year, Ibtihaj is set to see her dream of reaching a global audience come true.
She along with other refugees, were involved in an innovative project of recycling old UNHCR tents. They were encouraged to express their feelings through their painting, or to write poetry, or whatever artistic medium came to them, whilst being given broad themes of 'Hope', 'Memories' and 'The Impact of War On Families'.
The results have been so powerful; the tents are now set to be exhibited in a number of locations across the world.
"The goal was to turn these symbols of loss and displacement into beautiful pieces of artwork, in order to raise awareness for the plight of refugees," said Hannah, a student who was living in Jordan last year. "We played with the idea of 'fragments', 'pieces' and 'shattered lives'. Lives fall apart when forcefully expelled from their homes and need to be rebuilt again.
The most common image expressed by the refugees however, one that kept reoccurring, was 'home', highlighting the longing of many refugees for the conflict to end and to return to their lives.
"There is a liberating element of art," said Hannah. "Free and safe spaces are important for children who might feel trapped by their trauma."
Art has been shown to be a great way for refugees to understand and express their experiences. Many refugees find the creative process to be cathartic and helpful in counteracting psycho-social problems that may otherwise develop as a result of the traumas they have faced when being forced to flee their homes.
Written by Charlie Yaxley in London, United Kingdom
*****************
UNHCR launched "Voices for Refugees", an online campaign, to mobilize support for internally displaced people and refugees in the Middle East and North Africa (MENA) by local communities. The campaign goes beyond compassion and solidarity; it also aims to offer that much-needed hope and support for refugees. To support the campaign, please visit Voices for Refugees and sign up to become a Voice.