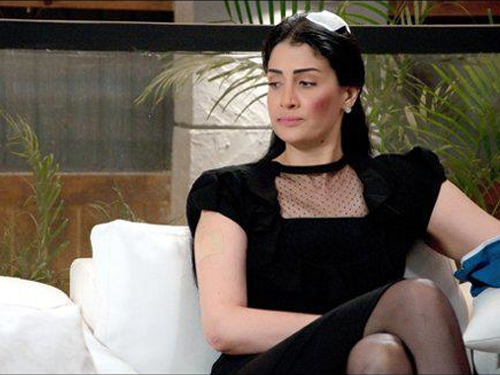 For decades, the highpoint of Ramadan's drama had been a serial about an idealistic middle class character who strives to dry the springs of ignorance or defeat corrupt forces. The archetypes of this strand of drama were the late Osama Anwar Okasha and Mohamed Galal Abdel Qawy, both known for their strong left leanings.
Viewers waited anxiously for their annual works like "Rabei's Other Half," where a conscientious lawyer meets his first love after 20 years of separation and discovers she is implicated in corruption cases, or "A Woman From the Era of Love" where a middle-class woman from Upper Egypt moves to Cairo to look after her nephews as her brother has to accept a job in the West. The woman comes to the capital with all lofty values to fix the turbulent and quite delinquent lifestyle of her brother's children.
Yet, this trend of a perfect middle class character navigating through the ditches of evil is no longer the hegemonic format of a Ramadan series. This year's shows concentrate primarily on the upper and lower classes. While the ugly depiction of slum residents is not new, the repulsive portrayal of the rich, to the extent of pathology, stands as a remarkable trait of this year's drama.
During the first week of Ramadan, many viewers complained that shows were biased to the bourgeoisie. The depiction of characters living in opulent mansions scattered in Cairene suburbs and speaking only in terms of millions of Egyptian pounds was seen as evidence of the class bias. However, a closer look at the actual plot of some of these shows reveals the ugliness that lies under this attractive appearance. In fact, it is an ugliness that goes beyond the classical portrayal of the rich as evil forces that commit injustice against the poor. They are depicted as more of a decadent self-defeating class. The drama "Premeditated" is a case in point.
It tells the story of a successful lawyer and professor (Ghada Abdel Razek), whose frustration with her drug addict husband makes her fall for another rich businessman (Maguid al-Masry).
Soon in the serial, her husband dies of a cocaine overdose after finding out about his wife's affair. Here, the plot begins to thicken and the complexities of characters are gradually revealed. She finds out about her husband's promiscuity and corruption, which involves top state officials. Meanwhile, the shrewd lawyer has to stay on the alert as the multiple enemies she made throughout her career keep laying ambushes for her.
This is not to assume that she is an idealist by any means; her character bears equal traits of vice and virtue. While the show implicitly celebrates her for not having slept with her lover while her husband was still alive, the famous attorney employs all the dirty techniques in her job, including paying bribes and using private information to blackmail her adversaries. Busy with her wars, her children are left on their own. Eventually her son becomes a drug addict and her daughter indulges in extra-marital sex with her boyfriend.
Eventually, the protagonist finds out that her lover is one of her victims who tapped into her world to have revenge as the well-known lawyer had fabricated a case against him years ago and sent him to jail.
Against extravagant ultra-modern décor, significant verbal and physical violence ensues in the show. So far, at least three scenes of domestic violence have been played. And the language used is no less brutal, to the extent that one satellite channel ran a warning prior to the show.
"Unknown Number" demonstrates a more subtle negative depiction of the same class. It revolves around an ambitious lawyer who rises from the ranks of the middle class. To achieve his dreams, he approaches the stepdaughter of a famous and wealthy lawyer until he marries her and gets hired in her stepfather's law firm. His lust for money and professional success makes him easy prey for an unknown caller who blackmails him into assisting with his criminal operations. The caller also keeps tempting him with money and information that helps him win cases and boost his own career. As he strives to find out who this anonymous caller is, his high-class entourage is exposed.
While the posh décor conceals the corruption, promiscuity and drug addiction of the social elite, the devastated miserable alleys provide a home for similar social diseases of the poor.
The pathological depiction of the poor is nothing new. In recent years, Egyptian drama has invested in drawing quite a shocking image of slum areas not only by highlighting their needs, but by stressing their allegedly decadent lifestyle of promiscuity, incest and crime. "The Alley," broadcast in 2010, stands as one of the early TV series to represent this trend. At the time, it elicited quite a stir for drawing a ruthless, yet quite realistic, image of social dynamics in slum areas.
This year, the same trend is pursued in "Needle Hole," which takes viewers on a journey inside one of Cairo's poorest alleys to explore the life of Al-Brince (Amr Saad), whose tough economic conditions make him turn into a full-fledged con artist, who does not mind betraying those closest to him to make money. Eventually, he steals someone's passport and uses it to go to Europe, returning later with a fortune. "The Thug" demonstrates the plight of another poor young man, Hamza (Asser Yassin), who finds no way to make ends meet other than resorting to crime.
This overrepresentation of the rich and the poor could have two reasons. First, the conventional middle class consisting of state-educated and state-employed professionals, who served as the backbone of Gamal Abdel Nasser's regime and were seen as the locomotive of modernization and progress, has itself decayed. In the last two decades, neo-liberal policies have pushed large segments of that middle class down the social ladder and helped only a few to rise and adopt a bourgeois lifestyle. Second, the ugly portrayal of both the rich and the poor may itself be the work of biased middle class writers, who feel squeezed between the two classes and lament the disintegration of their own social stratum.
This piece was originally published in Egypt Independent's weekly print edition.