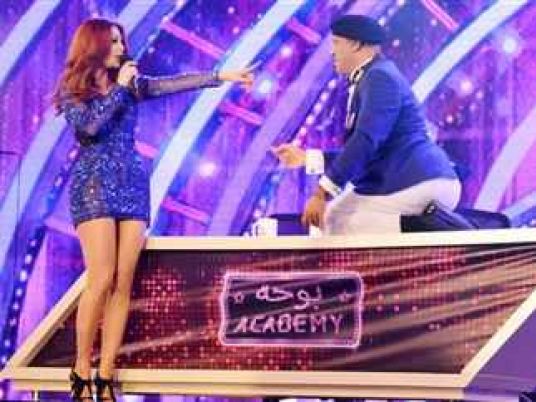 The first episode of the TV show "Wesh al-Saad", presented by comedy actor Mohamed Saad and broadcast on Friday, provoked angry responses from viewers due to its allegedly indecent content.
Many complained of indecent language and harassment of the Lebanese singer Haifa Wehbe, who was a guest on the show.
Complaints appeared on social media platforms just minutes after show opened on the MBC Masr TV channel. Many users threatened to boycott the channel and the products advertised if the show was not stopped.
One person addressed Saad on the channel website saying, "Saad, don't you feel shy in front of your children when they see you like this?"
Meanwhile, Sadeq al-Sabbah, the show's producer, said Saad's audience is a bigger than those who attacked the show on social media. He said people should watch the next episodes before making a final judgement, saying that the strong language would be toned down.
In remarks to Al-Masry Al-Youm, Sabbah said, "Some people liked the show. However, the audience was divided. We will try to find a balance in the coming episodes."
During the show, Saad takes on the character of Bouha, which he played in a movie of the same name.
In related news, Lawyer Samir Sabry filed a complaint against Saad with the public prosecutor on Sunday, accusing the TV personality of inciting public indecency.
"The show contained some sexual gestures and words that were in breach of values and morals. Harassment was clear after Saad held Haifa Wehbe on the stage in an unacceptable way," said the complaint.
Edited translation from Al-Masry Al-Youm