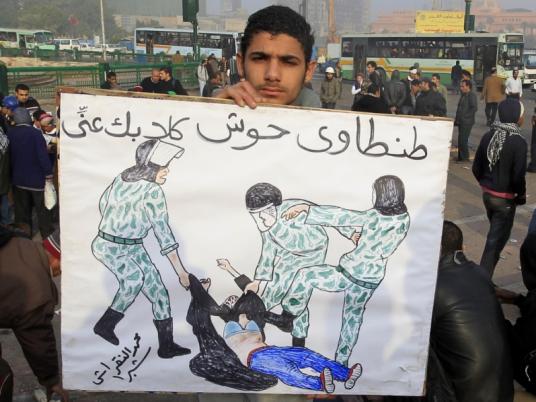 Wednesday's papers focused much of their coverage on three main developments: a mass march led by Egyptian women against the abuse of female protesters by security forces, a new million person protest planned in Tahrir and other squares against human rights violations perpetrated by troops, and run-off elections in the second stage of parliamentary elections.
Regarding the march, the independent Al-Tahrir newspaper runs a headline reading "Thousands of women denounce army's violations against females, march in Tahrir." According to the article, thousands of Egyptian women — including secular females, others wearing headscarves and face-veils — along with Copts, congregated in Tahrir Square on Tuesday, where they chanted against security forces' transgressions against female protesters. They then marched across downtown Cairo to the Journalists Syndicate.
The liberal Al-Wafd newspaper runs the headline "Women protest and march against assault, and forced stripping of female protesters." The paper mentions that photos and videos of assaults on female protesters over the past five days have fueled anger against the armed forces and military police for their abuse and degrading treatment of women on the streets of Cairo. Estimates suggest that some 14 protesters were killed at the hands of security forces in downtown Cairo over the past five days.
In the state-owned Al-Akhbar, a toned down and conciliatory headline reads, "Army apologizes to Egypt's women." A sub-headline reads, "Female protest march across downtown Cairo against dragging of girl," without mentioning in the headline that the girl had her clothes ripped-off at the hands of the armed forces. A tiny article on the third page of this paper makes it seem as if only one female was assaulted over the course of five days. Furthermore, the article only mentions that this female protester was dragged through the streets and exposed — without mentioning that she was degradingly stripped, stomped upon and left on the pavement.
Al-Wafd runs another headline quoting US Secretary of State Hillary Clinton describing "acts of violence against women in Egypt as a 'disgrace.'" Also quoting Clinton's comments at Georgetown University, the independent Al-Shorouk runs a headline reading: "Violence against female protesters is a disgrace for Egypt's army… Such treatment is not worthy of a great people."
Al-Shorouk runs another headline announcing "29 movements and parties call for Friday protest dubbed 'Covering Egypt's Dignity.'" In the independent Al-Dostour daily, a different name is assigned to the planned protest. The number of political groupings calling for this protest is also different: "17 political movements to participate in the million person protest for 'Reclaiming Egypt's Dignity.'"
Regarding the run-offs in the second stage of parliamentary elections, Al-Dostour runs a headline reading "Events in Tahrir cloud run-offs in second stage of elections for People's Assembly." The article mentions that five days of violence near the cabinet and in Tahrir Square have cast a dark cloud upon the electoral process.
Run-offs today are expected take place between the highest scoring candidates in the governorates of Giza, Beni Suef, Monufiya, Sharqiya, Beheira, Suez and Ismailia. A total of 118 candidates are running for 59 contested seats in the People's Assembly. In Al-Akhbar: "Runoffs for 59 contested seats on single candidate lists, 24 contested seats for party lists." In Al-Shorouk: "Islamists face to face in runoff elections for single candidate lists today." The article mentions that the two leading political parties, the Muslim Brotherhood's Freedom and Justice Party and Nour Party, a Salafi group, will be competing against each other in fierce electoral campaigns.
In other news, a woman is accused of mass-poisoning the "Occupy Cabinet" sit-in on Wednesday. Initially, claims suggested that the woman wore a full-face veil or niqab, while distributing hawawshi (grilled meat pastries) among the protesters. Photos of a woman, identified as Nelly Esmat, indicate that she wears the headscarf, not face-veil.
The state-owned Al-Akhbar claims that Esmat had no intention of poisoning the protesters, and did not know that the meat she was distributing had gone bad. Earlier reports suggested that she may have intentionally added a poisonous or toxic substance to the food. Forensic evidence reportedly confirmed that the food was not poisoned, but rather bad meat. Security forces cracked down on the 'Occupy Cabinet' sit-in less than two days after the incident in which over 50 protesters had fallen ill.
Egypt's papers:
Al-Ahram: Daily, state-run, largest distribution in Egypt
Al-Akhbar: Daily, state-run, second to Al-Ahram in institutional size
Al-Gomhurriya: Daily, state-run
Rose al-Youssef: Daily, state-run
Al-Dostour: Daily, privately owned
Al-Shorouk: Daily, privately owned
Al-Wafd: Daily, published by the liberal Wafd Party
Youm7: Daily, privately owned
Al-Tahrir: Daily, privately owned
Freedom and Justice: Daily, published by the Muslim Brotherhood's Freedom and Justice Party
Sawt al-Umma: Weekly, privately owned
Al-Arabi: Weekly, published by the Nasserist Party