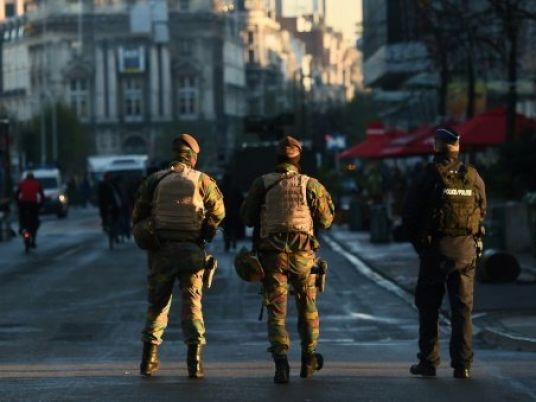 Islamic State's attack on Paris has triggered shifts in great power strategy in the Middle East, but just as significant for Europeans may be change afoot inside an office block near Brussels' Gare du Nord station.
The Belgian capital was home to some of the Paris attackers and a logistical planning base for the operation. Dubbed by some "Jihad Central", the city was locked down for days for fear local radicals could strike at home.
Now, stung by international accusations that underfunding and political in-fighting had left its security services the weakest link in Europe's counter-terrorism defenses, Belgium is ploughing resources into an intelligence agency that faces the biggest concentration of Syria-linked militants in the West.
Staffing for the Surete de l'Etat (State Security), of which little is publicly known beyond its address in an anonymous federal government office building near Brussels' northern rail terminus, could rise by a quarter, according to government budget projections reviewed by Reuters.
And for the first time in memory, Belgium has plans to send its spies abroad, the Justice Ministry confirmed in response to a question from Reuters.
Belgian security chiefs have repeatedly complained that they cannot handle up to 900 home-grown Islamist militants, among the highest per capita rates in Europe – and certainly not with existing funds.
However, it took a foiled attack, including a shoot-out in the eastern town of Verviers, in January to reverse a planned budget cut and release 200 million euros (US$212 million) of security spending. The Paris attacks led to a further 400 million euro package last month.
Quite how many people work in Belgian intelligence is itself a state secret, unlike most western peers, but there is evidence it is under-resourced compared to European counterparts.
Lars Bove, the author of a book on Belgium's secret service, says it has around 600 staff, with some 500 in intelligence. The budget was set to have been cut this year, but after Verviers, was raised 20 percent to some 50 million euros.
Neighboring the Netherlands spends much more, even accounting for its larger size. Its AIVD agency employs some 1,500 people and had 213 million euros to spend this year, including a 25 million euros boost mainly to target some 220 Dutch jihadists believed to have gone to fight in Syria or Iraq.
"The same kinds of comparisons can be made for different countries like France and Germany," Bove said
Some foreign observers have labelled Belgium a failed state, split between Dutch and French speakers and focused on local matters.
Prime Minister Charles Michel himself, in power for the past year only, has rejected criticism, especially in the French media, but said measures taken at the start of the year were not enough.
"We need to do more and we need to do it better," he said.
The patchwork country of 11 million people has six parliaments for its regions and linguistic communities, 193 local police forces and 19 autonomous mayors in Brussels alone.
Anyone looking for proof of how such devolution can affect policies assumed in most of the world to be the domain of national government had only to observe Michel's discomfort attending last week's UN climate summit in Paris. Rare among wealthy nations, Belgium lacked an agreed plan on global warming – because Flemings and Walloons could not agree.
Within hours of the attacks in Paris being traced back, at least in part, to a network of young men from the Moroccan immigrant community in the Brussels borough of Molenbeek, Flemish and French-speaking Belgian politicians were pointing fingers of blame at each other for failing to curb the radicals.
The interior minister, a Flemish nationalist, was criticizing the fact Brussels, a city of just 1.2 million, has six autonomous police forces. The French-speaking liberal mayor of Molenbeek was complaining of a lack of resources to track 85 suspected militants in her borough alone – and criticizing her socialist long-time predecessor for being soft on radical imams.
While there is no hard evidence of intelligence and tip-offs falling between the cracks before the Paris attacks, the limitations of the Surete security service have come to light. One of the suicide bombers, Bilal Hadfi, 20, returned from fighting in Syria and the intelligence services decided to bug his apartment to check his network.
But he failed to show up at the apartment he had been registered at, and so could not be traced.
Proposals to force those returning from Syria to wear electronic tags have also run into problems. A strike by those responsible for fitting the ankle bracelets in Flanders led the regional government to cut back on the program, to the irritation of federal authorities.
Alain Winants, head of the intelligence service from 2006 until 2014, said politicians had appeared apathetic to his former service until the start of the year. He gave the example of when it planned a presentation about Syria fighters for the previous government – not a single minister showed up.
"It gave us the impression that there was a certain lack of interest," he said.
The service also had had to rely on publicly available sources and informants and its close ties with Moroccan agents working inside the country until 2010 when it finally was cleared to tap telephones, hack computers or check bank accounts.
"We must have been one of the last services in Europe, if not in the world, to obtain modern measures to gather information, such as telephone taps," Winants said.
Even now, as Prime Minister Michel noted when he announced changes after the Paris attacks, Belgian police have not been allowed to make house searches after 9 pm. That genteel piece of legislation is now going to be eliminated while prosecutors will get up to three days not 24 hours to hold suspects in custody.
The former intelligence chief said he warned the government about inadequate resources and said funding had reached "a bottom line", with 100-150 new staff urgently needed.
A year on from his departure, his wish may be granted.
Extra funds agreed in 2015 have allowed the service to recruit 45 people, with selection ongoing for a further 28.
Michel pledged in the week after Paris a security crackdown on Islamist violence, including bans on hate preachers, jailing of returning Syrian fighters and tagging potential jihadists.
Belgium, he said, would pump an extra 400 million euros into policing and justice, with a special focus on intelligence, with further recruitment and spending on speech recognition technology or cameras that can recognize vehicle number plates.
Belgium's justice minister is also looking into allowing the secret service to place officers abroad for the first time.
"We are for the moment a purely internal defensive service," said Winants, adding it was not realistic in the 21st century to have no foreign officers. "I think it's necessary, without becoming an action service like the CIA."
Evan Lawrence, a counter-terrorism and security specialist at the University of Central Lancashire, said it made sense to have operatives abroad for direct human intelligence, although since the 2004 Madrid bombings international sharing of information had vastly improved.
"Ultimately though you need more focus on stopping people becoming radicalized. You need specific goals. By the time you throw money at the services you've lost the battle," she said.
"You're relying on the police and intelligence services to be lucky every time."
(US$1 = 0.9440 euros)