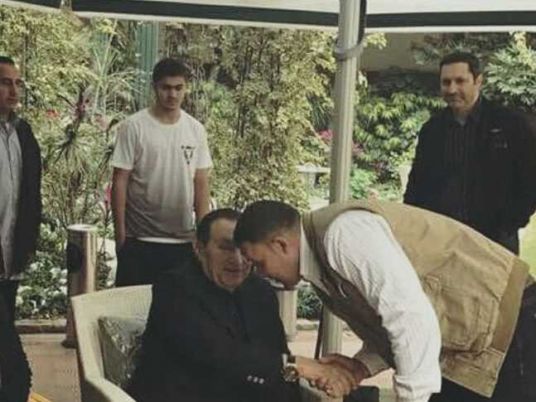 Karim Hussein, the founder of the pro-Mubarak Facebook page entitled "Asfeen Ya Rayes" (We're Sorry, Mr. President) wished former president Hosni Mubarak a happy birthday on his 89th birthday.
Hussein posted a photo of Mubarak that he described as "a recent video", one that is published for the first time. "Happy birthday! May god bless your health and support you with his victory," commented Hussein.
The photo showed a person greeting Mubarak, in attendance of his eldest son Alaa and grandson Omar.
The former Egyptian president who was ousted during the 2011 Arab Spring, was recently cleared in all court cases and freed from military hospital. According to a report by AFP, his lawyer Farid al-Deeb said that the former president had gone home to a villa in Cairo's Heliopolis district.
Mubarak was briefly imprisoned, but after slipping in a prison shower, he was then tranferred to a military hospital where he spent most of the past six years in detention. He was cleared for release earlier in March, after a top court finally acquitted him of involvement in protester deaths during the 2011 revolt that ousted him.
Edited translation from Al-Masry Al-Youm