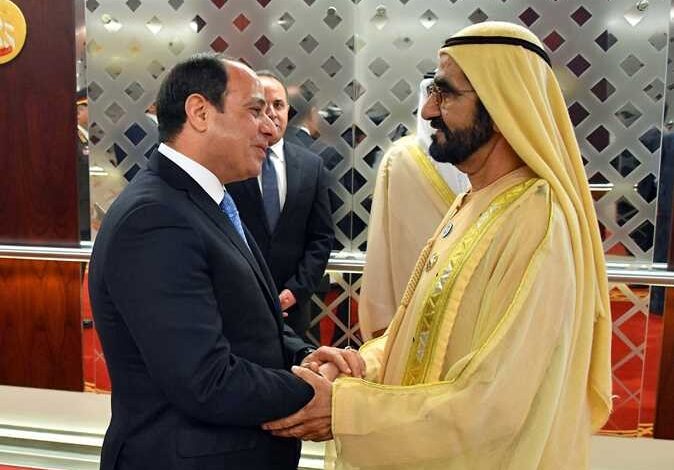 Egyptian Prime Minister Mostafa Madbouly on Saturday met with the Vice President and Prime Minister of the United Arab Emirates and Ruler of Dubai Sheikh Mohammed bin Rashid al-Maktoum, during Madbouly's visit to Expo 2020 Dubai.
Sheikh Maktoum asked to convey his sincere greetings to Egyptian President Abdel Fattah al-Sisi, saying: "Tell President Sisi that we all love him."
The meeting was attended by Egyptian Minister of Planning and Economic Development Hala al-Saeed, Minister of Housing, Utilities and Urban Communities Assem al-Gazzar, Minister of Trade and Industry Nevine Gamea, and Egypt's ambassador to Abu Dhabi.
Sheikh Mohammed was happy to receive Madbouly and the accompanying delegation, and stressed full support to strengthening relations with Egypt, given that the nation has a historical place in the hearts of Emiratis.
He also expressed his admiration for Egypt's construction of more than 20 new smart cities simultaneously.
Madbouly explained that this represents a great challenge and an unprecedented urban boom, which required a lot of effort.
He added that the most prominent and largest project currently is the Decent Life initiative launched by President Sisi to improve the quality of life for over half of Egypt's population living in the countryside.
The Egyptian Prime Minister conveyed President Sisi's greetings to the leadership and government of the UAE, and his congratulations on the occasion of the fiftieth anniversary of the founding of the union of the Arab Emirates, wishing the Emirati people continued prosperity.
Madbouly praised the renaissance achieved by the UAE, and said that what he saw at the Expo 2020 Dubai is a pride for all Arabs.
He also praised the UAE pavilion for focusing on the history of the UAE's establishment and its development instead of only highlighting the present.