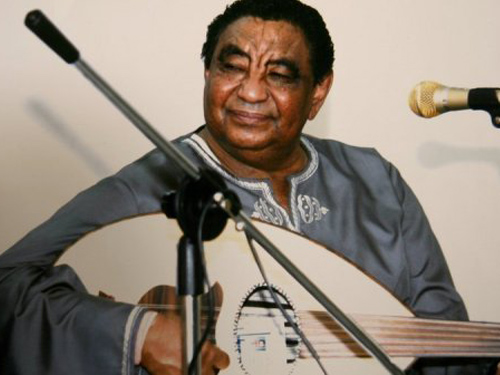 One of Africa's most celebrated singers, Mohammed Wardi, died Saturday at the age of 79, leaving behind a rich legacy of musical innovation that extended beyond the borders of his native Sudan.
Wardi, who was once known as the continent's "first singer," produced nearly 300 songs over his five-decade career. He captivated Sudanese listeners of all ages and was described in his home country as the singer with the "golden throat."
The septuagenarian singer was born in the Nubian area in northern Sudan on 19 July 1932, at a time when Sudan was governed by the Anglo-Egyptian pact, which placed Sudan under the rule of both the British Empire and the government in Cairo.
Though he first worked as a teacher, he resigned and decided in 1957 to pursue a career singing at the national radio service.
At the time, the national radio station "Here is Omdurman" was struggling to find a way to express both the individual character and plurality of the nation. The radio service, first established by the Brits in 1940 and named for a turn-of-the-century battle between British and Sudanese forces, witnessed a major transformation in the late 1950s.
It transformed from being a mouthpiece for the colonial rulers to a voice of Sudanese nationalistic aspirations, with Wardi's songs as the main soundtrack.
In an interview with the Saudi daily Al-Riyadh in April 2005, Wardi recalled his first big break with the Sudanese radio.
A program called "All Over Sudan" had just started airing. Wardi applied for an audition and was accepted as a professional singer on the radio soon after.
In the following years, Wardi balanced tradition and innovation in his singing. He used both Western and traditional Sudanese instruments like the Nubian tanbur (a long-necked string instrument with a half-spherical body). He also sang in his native Nubian dialect, which greatly increased his popularity among his fellow Nubians.
Wardi, along with his contemporary, leading singer Sayed Khalifa (1931–2001), is widely considered to have been pivotal in developing the modern Sudanese singing scene in the 1960s. Both singers adopted a similar approach, using themes from Sudanese daily life, engaging with philosophical notions of freedom and national independence and conveying their passionate love for their homeland.
But Wardi's songs were more politically oriented. He was a strong opponent of the despotic regime of General Ibrahim Abboud, who came to power following the 1959 coup d'etat, and was overthrown by a popular uprising in 1964, known as Sudan's October 1964 revolution.
The uprising was the first in Arab modern history in which people revolted against a national president and called for democracy. Wardi commemorated the uprising in his well-known song, "The Green October." He sang:
"Green October, with your name the land sings/ The fields burst into wheat, promise and hopes/ The treasures were opened in the ground, calling/ With your name the people triumphed/ The wall of the prison was broken"
Like Khalifa, Wardi initially celebrated the new rule of General Gaafar Numeri, who seized power after another military coup d'etat in 1969. However, Sudanese commentators say that Wardi hailed the early socialist policies of the Numeri regime, and not its attack on civilian rule that followed.
In fact, Wardi opposed Numeri's repressive measures against political forces in Sudan. He sang a poem written by poet Omar Aldosh called "Banadeeha" ("I'm Calling on Her") that subtly criticizes Numeri, saying that Sudan was lost during his reign, as shown in the following verses.
"When she misses our date/ I look for her in history/ I ask the forefathers about her/ I ask the future that will come after many years"
Wardi also sang a famous poem by Mubarak Basheer, entitled "The Meeting of the Faithful," in which he talks about some of Sudan's national heroes in its recent history.
"The Meeting of the Faithful" went as follows:
"Today, we remember all the martyrs/ Everyone who wrote a sentence, in history, with blood/ Today, we remember all the honorable people/ Everyone who shouted against injustice."
Sudanese opposition groups received this song as a clear statement against Numeri.
Khalifa, on the other hand, maintained good relations with Numeri, and continued to sing in support of the military dictator. In the 1960s and 1970s, Khalifa gained fame because of his strong connections in Cairo, where he studied at the Arab Music Institute. He is believed to be the first Sudanese to pursue formal academic study of music. Khalifa also appeared in Egyptian movies, singing his well-known "Mambo al-Sudani" ("The Sudanese Mambo").
Unlike Khalifa, Wardi had received no formal training in music. But, by singing authentically Nubian songs, he became an unparalleled star in the Nubian communities in northern Sudan and southern Egypt.
Egypt's famous Nubian singer, Mohamed Mounir, sang Wardi's "Wust al-Dayra" ("The Middle of the Circle") on his 1987 album, making the song its cover. Mounir's rendition achieved major success but with little attribution to Wardi.
Following the fall of Numeri in the 1985 popular uprising, the Sudanese music scene experienced a new renaissance, with artists reemphasizing, once more, the need for a pluralistic but unified Sudan. Wardi was selected as the head of the Sudanese Musicians Union. Wardi and Khalifa still led the music scene, but other young voices started to emerge, such as the much-celebrated Mostafa Sayed Ahmed and Sharhabeel.
The singers had proven that they could perform under difficult circumstances and dictatorships. But after Islamists seized power in the third coup d'etat in Sudan's history in 1989, attacks on music concerts and secular cultural life reached their climax.
After the coup, the ruling National Islamic Front proved to be ruthless authority, chasing singers, banning women from traditional dancing, and mocking the music industry. The National Islamic Front threatened Wardi for his nationalistic songs. Wardi remained silent for a while, but emerged again, performing in defiance some of his most political songs.
Later, he fled to Egypt, as government persecution escalated. Wardi and Khalifa were among many Sudanese artists who came to Cairo as anti-arts propaganda in Sudan reached its peak, when an extremist killed singer Khojali Osman in 1994.
Wardi, who was in exile at the time, responded to the incident, saying, "Art is like water: You can't seal off its source. It will trickle inexorably through the rocks to emerge in a new spring somewhere else."