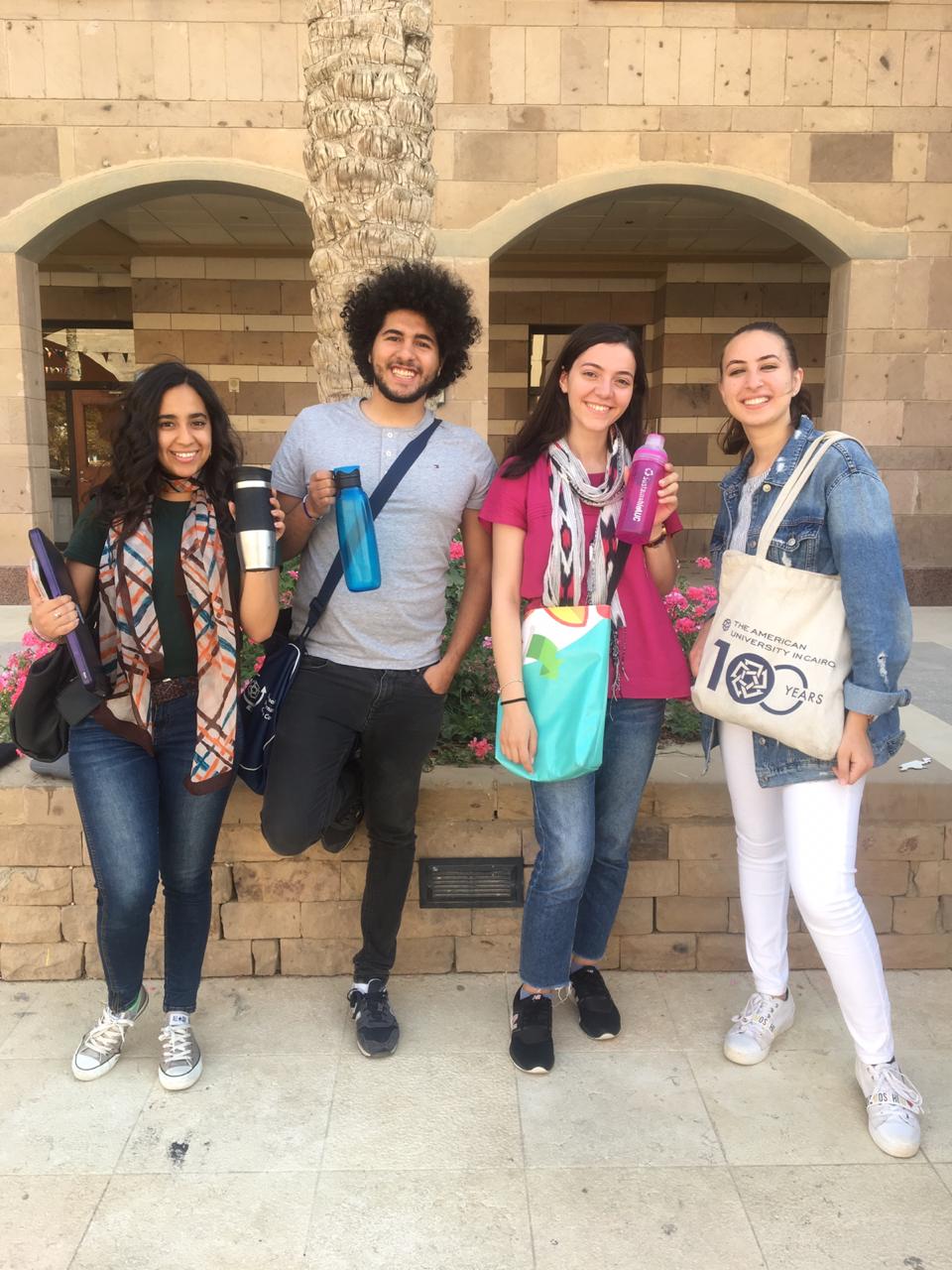 Like many other countries around the globe, Egypt has been in a constant battle with waste.  However, a crucial part of the problem lies in lack of awareness.
This is the reason behind the launch of the Waste Free AUC environmental campaign by a group of students at the American University in Cairo aiming to reduce all types of waste including paper, plastic, food, and water inside and outside the campus.
The campaign was born out of the founder Youssef Ramadan's desire to make a positive contribution to his university, triggered by his understanding of the country's environmental issues from one of his undergraduate courses.
"My short-term goal is to reduce 50 percent of waste on the campus over a coming couple of years. The university always exerts efforts to improve waste management and we are now working hand in hand to attain this goal," Ramadan explained.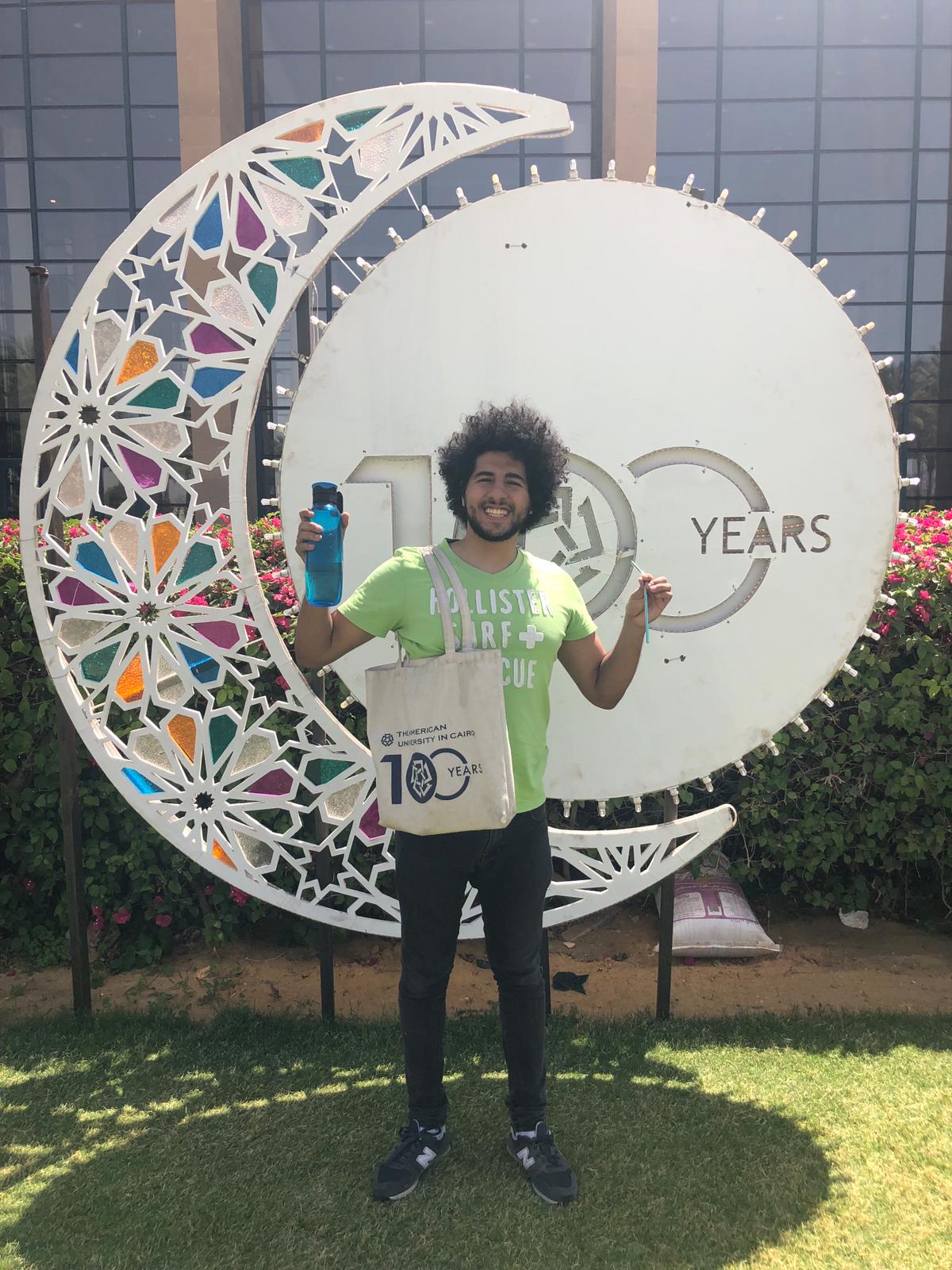 Photo caption: Youssef Ramadan, the founder of Waste Free AUC campaign, holding environmentally-friendly products: a water bottle and canvas bag. 
The Waste Free AUC campaign also aims to increase public awareness about environmental problems, their ramifications, and the best practices to tackle them.
"In the beginning, I made a survey in the university on random students' behavior and opinions regarding environmental issues and found out that a large number of the interviewees is unaware of the implications of the problem but are willing to take part if the chance arises."
Video Caption: Founder of the campaign Youssef Ramadan and volunteers Salma El-Azhary and Heba Omar. 
The whole campaign idea snowballed after the launch of the campaign Instagram page, Ramadan stressed. "I started by taking photos of my friends using environmentally-friendly products and posting them on the campaign's Instagram account. It helped influence other students, who were encouraged to do the same."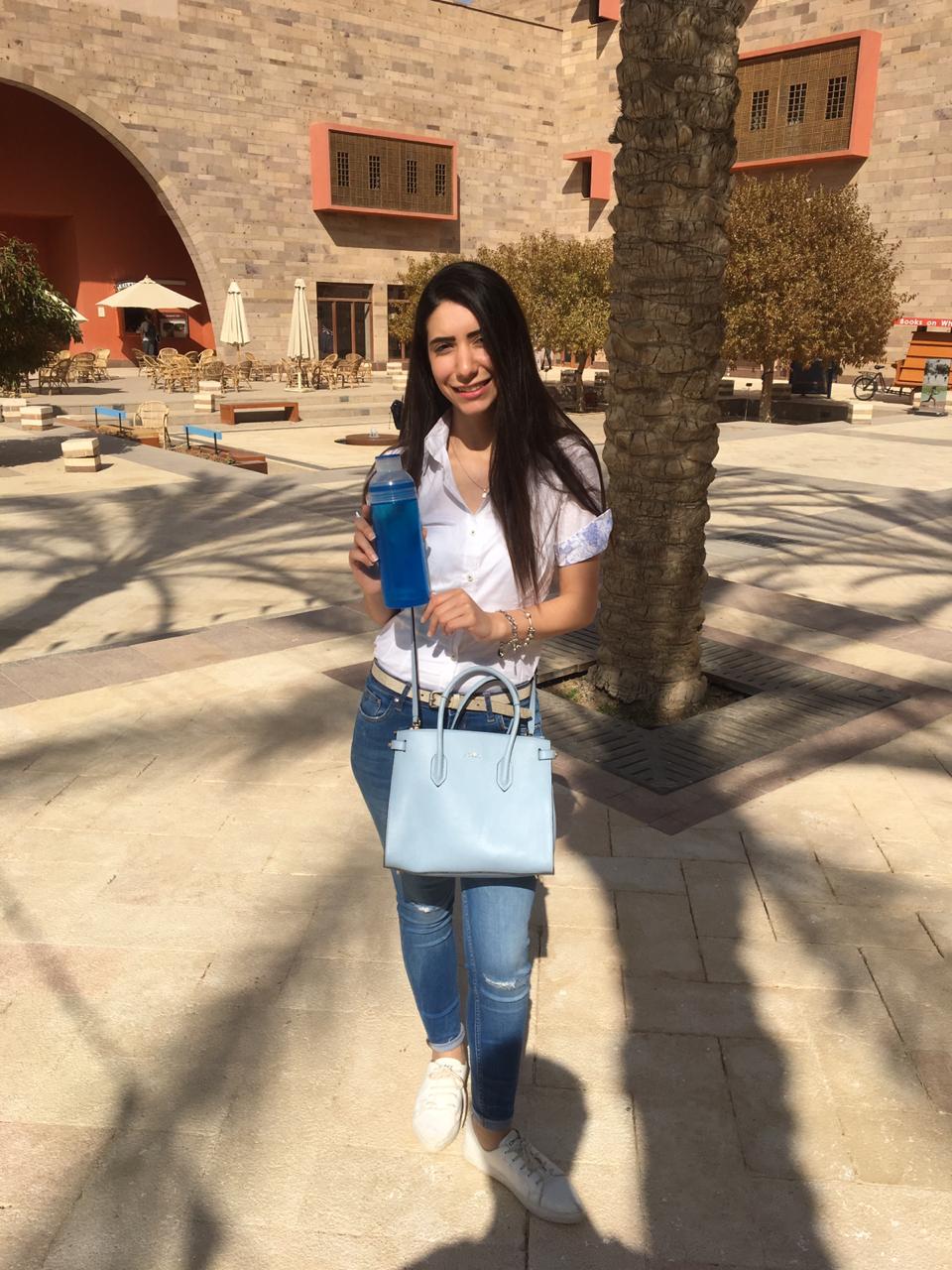 Photo caption: One of the volunteers supporting the campaign by not using single-use water bottles. 
Moreover, the campaign played an important role in AUC's Earth Week event in mid-April by reaching out to students to increase their environmental education in a simplified, interactive manner. The outreach also grants participants vouchers and incentives related to the cause.
"I was ignorant about environmental issues and never took them into consideration. But since I became involved in the Waste Free AUC campaign, I've started to have a wide look around me and take a glimpse of how the planet is becoming at risk," Heba Omar, AUC student and one of the campaign's volunteers, told Egypt Independent.
"I have started feeling how effective and influential I am whenever I contribute in saving the environment by simply leading a sustainable lifestyle."
In an effort to put the idea into action, in late April 2019, some volunteers from the campaign held a one-day street clean-up event in Zamalek. They teamed up with the recycling company Go Clean, which provided biodegradable plastics.
The event was open to non-AUCians in a bid to expand the idea to different segments of society. The participants carried out the waste collection and segregation processes and donated the proceeds given by Go Clean to a charitable organization.
The campaign is planning to hold the street cleanup event on a weekly basis in different neighborhoods across the country.
This Ramadan, the volunteers rolled up their sleeves as it is known that Egyptians increase food waste during the holy month. The campaign, in collaboration with The Gaia Movement, AUC's environmental club, came up with a hashtag Instagram campaign titled 'Eftar 3ala el-2ad' to raise people's awareness about excessive food consumption in a creative, encouraging manner.
"We call on people to cook or order a small amount of food over the meal of Iftar in order to avoid food waste. We nominate three people to take a photo of their empty plates to post them on their Instagram accounts and then each one passes the challenge on to another three in an attempt to reach as many people as possible. The event was met with great support."
Another one of their out-of-the-box ideas was coming up with a new environmentally friendly packaging for Ramadan meals, created at the lowest possible costs.
"Since in Egypt we usually package the meals in single-use plastic bags, we came up with this simple environmentally friendly packing," Ramadan explained.
"In the packing, we use bamboo cutlery, foil plates with cartoon covers, and reusable lunch boxes, then we put the whole meal in a fabric bag. It cost us for the meal–to make it completely environmentally friendly–8.15 Egyptian pounds. However, on the other side, we can't describe how happy the people were when we gave them the colorful fabric reusable bags, which drew smiles on their faces."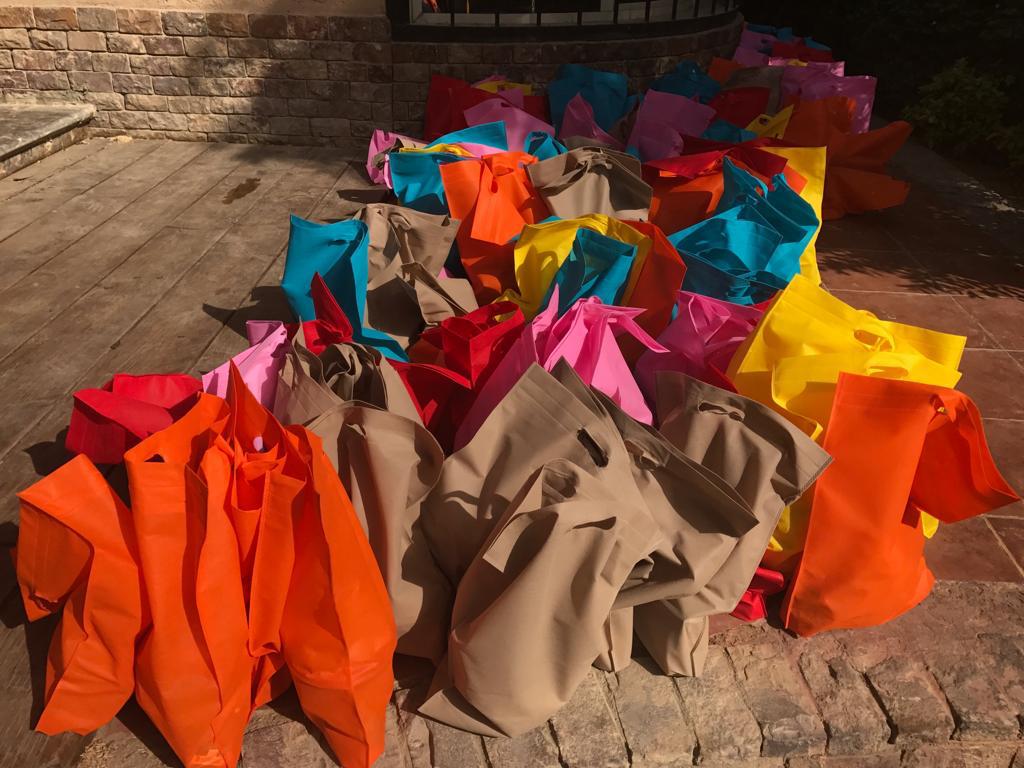 Photo caption: The campaign's environmentally friendly packing during Ramadan 2019.
According to a 2017 report on garbage disposal issued by the Central Agency for Public Mobilization and Statistics (CAPMAS), an estimated 44.8 percent of Egyptian households dispose of their garbage by dumping it onto the street, while 55.2 percent dispose of theirs through private companies and garbage collectors.
CAPMAS revealed that the percentage of safe garbage disposal in urban areas was 76.9 percent, compared to 36.9 percent in rural areas, making 63.1 percent of garbage disposal in rural areas unsafe.
"That is only the start! We are gearing up for other events and activities targeting more young people from different walks of life to protect the environment and bring about a drastic change in society in the future."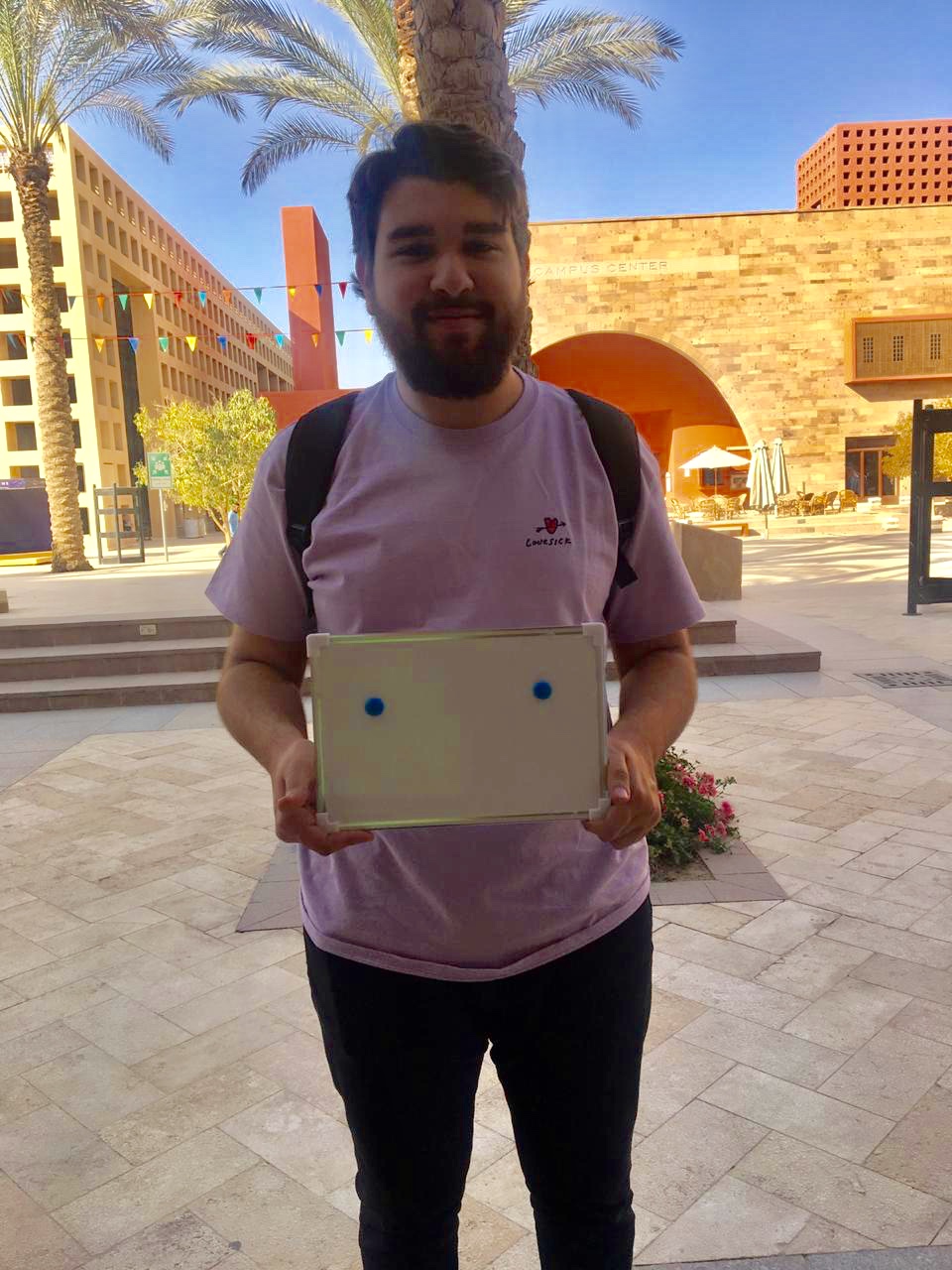 Photo caption: One of the campaign's volunteers using a whiteboard instead of papers.