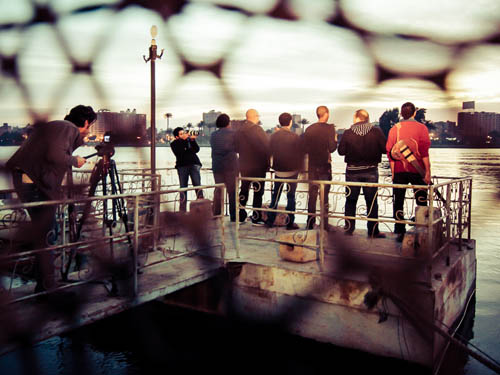 As the number of active Internet users continues to rise in the Middle East and North Africa, social networking and digital media have been generating not only economic value into the region, but also cultural value.
Joining the ranks of locally spawned digital media companies like Aflamnah, the first digital platform dedicated to crowd funding for creative ideas in the Arab world, and Who's Jamming, an online private network for musicians based on instruments and cities, a new digital community for artists called Wasla Media promises to offer regional creative types with a new platform for expression.
The word "wasla" means connection in Arabic. As the name suggests, the ultimate goal is to build connections between artists and the audience.
Its initial project, Wasla.fm, launched officially at the end of last year. It aims to create an online radio station and musical community that provides a user-friendly platform for site-visitors to access the multitude of bands within the regional music scene.
"Our aim is to create a playable, discovery platform for a wide range of contemporary music from the region," says Mahmoud Youssef, who co-founded the project along with fellow creative media expert Mohamed Braish. "There is a screening process for the bands we select [based off the research we compile]."
"We look for unique bands that are not within the mass or commercial segments of contemporary music," he adds.
Within just a few months of launching the site, Wasla.fm has garnered close to 8,000 followers on their Facebook page. And the website currently features over 150 contemporary bands from the entire Arab region, ranging from established ensembles like Massar Egbari to lesser-known newcomers like pop-rocker Cherine Amr.
Braish says the Wasla team meets with each band or musician, either in the flesh or on Skype, to co-develop their profiles. Each band is responsible for submitting the tracks and videos they want presented on the site, while Wasla helps facilitate the process. Another great function on the site is the links provided within each musician's profile that allow visitors to easily click through to the bands' social media pages on Soundcloud, Facebook and Twitter.
Braish mentions that the next phase of Wasla.fm will include a music store where visitors can purchase and download songs.
He says, "We have major challenges in Egypt with e-commerce, and thus it makes it very difficult to monetize the musicians' music online. But we are in the process of developing the technology to allow for a way around this.
"There is so much talent here that faces countless struggles in making a living off music. We want to provide solutions so that the artist can simply focus on making music, rather than always having to work full-time jobs, which takes away from their creative process," he says.
Both Braish and Youssef have been working in the creative media sector for more than 10 years now. This has provided them with a wealth of experience and knowledge regarding digital media and production.
The young entrepreneurs succeeded in establishing their own creative agencies. Braish operates a creative house that specializes in corporate identity, print or web media design, in addition to TV and radio production, while Youssef's agency provides integrated marketing solutions and public relations.
Although the idea for Wasla had been festering within the two entrepreneurs for some time, their vision did not fully culminate until after the onset of the 25 January revolution.
"After days and now years of protesting, I came to the realization that I may have a different role to play within this movement," says Braish. "I wanted to find a way to contribute to society at large. We all have a role in this movement, but the most beneficial way to play your role is through something you are already experienced or professional in."
One day, while spending hours brainstorming in the "creative zone" within Braish's agency, he and Youssef came to an epiphany.
"We had noticed this incredible surge within the independent music and filmmaking community, yet so many of the artists we would speak with did not have the resources or platforms to properly develop their projects," says Braish. "And then it hit me — we could use our experience and resources within media to build platforms for young artists that allow them to develop their projects while also encouraging their expression."
The duo spent the better part of two years developing their idea for an online media community that helps bridge the gap between artist and audience. After compiling a plethora of market research on the local music scene, TV production, filmmaking and Internet entertainment within Egyptian culture, they decided to launch the initial phase of the project: Wasla.fm.
But the duo is not stopping there. The second phase of Wasla Media will include the launch of Wasla.tv, which will be an online TV platform for emerging filmmakers and TV series creators.
Wasla Media provides an impressive array of resources to these young artists, including mentorships with industry professionals, studio spaces, editing rooms and a network of creative types that are looking for projects to collaborate on.
Young artists can work with Wasla.tv through two avenues. The first is through submitting pitch ideas and scripts to the Wasla.tv team to help pool together resources and a team for production, but the shows will be hosted on the Wasla.tv site.
The other avenue is if the filmmaker or scriptwriter wants to produce a feature-length project, short film or TV pilot — in this case, Wasla.tv acts as a co-producer for the project and only takes a kickback if the project is picked up by a major network or film distributor.
Wasla Media also provides workshops for young artists in addition to mentors who are industry professionals in music, TV or film. They are currently running a workshop for scriptwriters. And in the future, artists will also be able to request specific topics for workshops in order to better meet the needs of the young creative sector.
"I know it sounds crazy, but we look for talented, eager creative types to take a chance on. That is how you grow an industry, but more so, it is how you grow expression. We are determined to give the space and resources required for young artists to create," says Youssef. "In the end, it is the only way to counteract all the destruction out there."
This piece was originally published in Egypt Independent's weekly print edition.