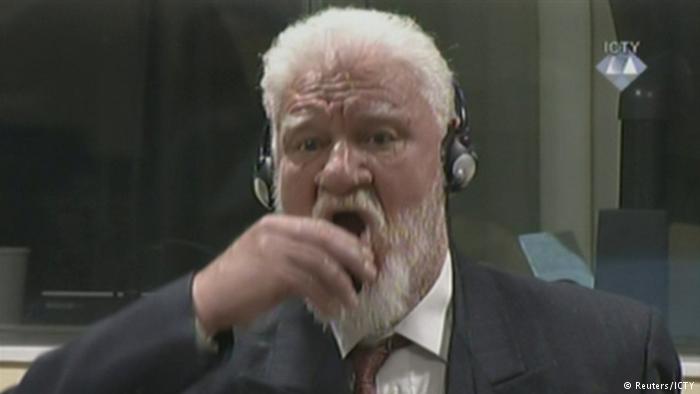 Ex-Bosnian Croat General Slobodan Praljak drank what his lawyer said was poison after the Hague war crimes tribunal upheld his sentence. Praljak rejected the verdict against him over his role in the Bosnian war.
Upon hearing that his appeal was rejected by the UN war crimes court in the Hague, ex-Croatian General Slobodan Praljak drank from a bottle his lawyer claimed contained poison. The court proceedings at the UN International Criminal Tribunal for the former Yugoslavia (ICTY) were promptly adjourned.
Praljak, who commanded ethnic Croat troops in the 1992-1995 war in Bosnia, reportedly yelled: "Slobodan Praljak is not a war criminal. I reject the verdict with contempt." He then drank from a small glass bottle in the courtroom.
The presiding judge has called for medical assistance and ordered the session to be closed to the public. It was not immediately clear if the glass bottle Praljak drank from really contained poison.
Praljak blamed for destruction of Mostar bridge
The appeal ruling on Wednesday confirmed long-time prison terms for three of the six defendants, all Bosnian Croats. The 25-year prison sentence for the best-known defendant, Croat wartime political leader Jadranko Prlic, was also confirmed.
The 72-year-old Praljak was specifically charged with ordering the destruction of the iconic 16th-century Ottoman bridge in Mostar, which was rebuilt in 2004, years after the war ended. The court's ruling confirmed the 25-year prison term he received for his role in the war.
Journalists waiting in front of the Hague courtroom report being told to clear the area in order to allow access to emergency services. A police vehicle, a fire truck, and an ambulance were deployed to the scene, with a helicopter also arriving at the scene.
The head of the Bosnian branch of the Balkan Investigative Reporting Network, Erna Mackic, reported a large police presence in front of the courtroom. The network shared a video from the scene.
Last-minute drama
The Wednesday ruling was to be the last in the 24-year history of the UN-founded war crimes tribunal, which is set to close its doors at the end of 2017. The court indicted 161 suspects, 90 of whom were convicted of committing war crimes in former Yugoslavia, including Kosovo, Bosnia, and Croatia.
Last week, the UN judges passed a life sentence against ex-Bosnian Serb General Ratko Mladic, also known as "the Butcher of Bosnia" over his role in the genocide against Muslim Bosniaks.