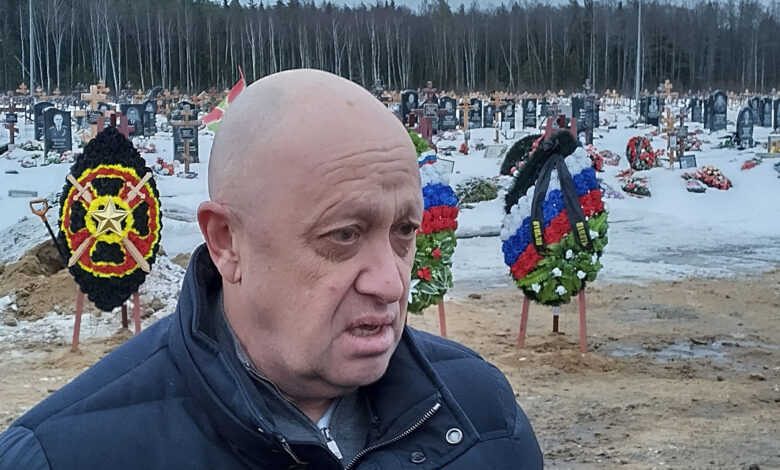 The head of Russia's Wagner private military company has attempted to explain his group's failure to capture the eastern Ukrainian city of Bakhmut, which has for months been the scene of intense fighting.
During a New Year's visit with fighters on the front line, Yevgeny Prigozhin said that there was "a fortress in every house" in Bakhmut, and that "only clowns that sit around and try to predict these things."
"Sometimes it takes entire weeks to clear a house, right?" he asked soldiers in a video posted to a Wagner Telegram channel over the weekend.
"They say, 'the combined forces have advanced into Artyomovsk and broken the defense,'" he said, referring to Bakhmut by its Soviet name. The name was changed back to Bakhmut in 2016.
"Then they say: 'What does it mean to "break through the defense?"' 'Breaking through the defense' means breaking through the defense of one house this morning, then you have to go break the defense of the next house, right?" he said.
"And it's not just one line of defense. How many lines of defense are there in Artyomovsk? If we said 500, that would be about accurate, right?"
The fighters confirm that there is a Ukrainian line of defense "every 10 meters," before Prigozhin continues.
"Therefore the question is: "Who is going to take Artyomovsk? Which combined forces? It'll be the Wagner combined forces," he said. "And who else? Other than Wagner PMC, who else is there?"
"No one else," the soldiers said.
Prigozhin denied any affiliation with Wagner for years, but in September finally admitted to founding the group in 2014.
He has since appeared frequently on social media, attempting to fashion Wagner's image as the most capable outfit in Russia's war in Ukraine.
"This year we will win! But first we will conquer our internal bureaucracy and corruption," Prigozhin says in another video.
"Once we conquer our internal bureaucracy and corruption, then we will conquer the Ukrainians and NATO, and then the whole world," he adds.
"The problem now is that the bureaucrats and those engaging in corruption won't listen to us because for New Year's they are all drinking champagne."