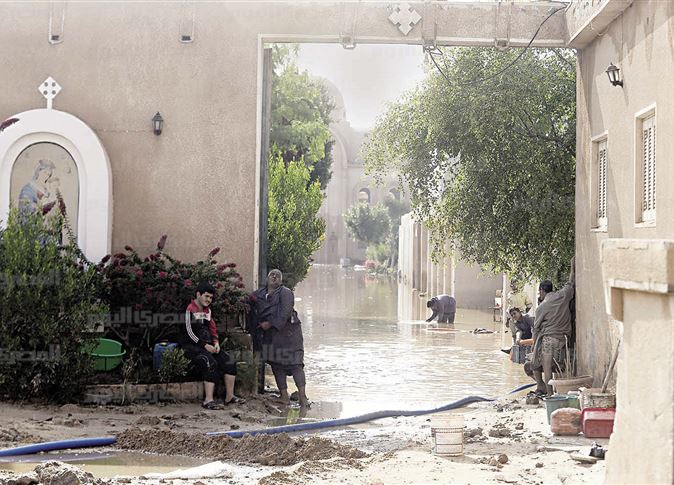 Heavy rain has damaged the ancient monasteries of Wadi Natrun, including the Bishoy Monastery, the the Syrian Monastery and the Paromeos Monastery that date back to the fourth century AD.
Large parts of the walls have collapsed, chapels were damaged and the fish and poultry farms were all flooded.
The rainwater broke the asphalt and entered the Bishoy Monastery, flooding the corridors and preventing the monks from reaching their rooms.
A team from the Antiquities Ministry was despatched to the region to assess the damages.
Reaching the monasteries of Wadi Natrun after four days of torrential rain was not easy, as the road from the Cairo-Alexandria desert highway to the Bishoy Monastery was full of mud. The monastery has a residence wing for Pope Tawadros II, who was a monk of the monastery before his ordination as patriarch of the Coptic Church. Pope Shenouda III, the previous pope, is buried at the monastery, which also has an ancient church. It is a popular destination for Coptic Christians and tourists and receives hundreds of visitors every day.
Father Serbamon took a team from Al-Masry Al-Youm on a tour to observe the damages. "Our drainage network and that of the whole Beheira province could not absorb the water," he told the team. "It was the worst flooding I've seen since I came here."
"The rain covered the power cables of the monastery, causing a 13-hour blackout," he said, adding that the rain also ruined 15 tons of flour and all the bakery's equipment, which produces 20,000 loaves a day for monks, workers and visitors. "The governor sent us 1,000 loaves until we can fix the bakery."
He said 500 meters of the wall surrounding the monastery has collapsed. "And the fish and poultry farms were ruined," he said. "So was all the feed stock."
"We use buckets and small suction motors to draw the water, but this is not enough because it is 40 cm high," he said, adding that the water also damaged the cemetery, which dates back to the first centuries of Christianity.
"We have 350 people on a spiritual retreat, in addition to more than 200 monks, all of whom helped in getting rid of the water," he said. "We pray for the officials to be able to handle this problem."
Father Augustine said the workers sleep in the church because their rooms are flooded. "The internal telephone network was completely destroyed," he said. "Even the mobile phones are not working."
The shrine for Pope Shenouda III was not damaged, thanks to its marble floor.
The Al-Masry Al-Youm team also visited the Syrian Monastery, which was also damaged. Father Cosmas told us that the dome of the church did not fall as some social networking websites claimed.
But Father Metaos said the material losses are heavy. "The artifacts inside the church are priceless," he said. "The roof of the church was cracked and the carpeting and furniture were flooded."
"Parts of the ancient cave church sustained damages," he said, adding that the Bishop Samuel Church, the Bishop Karas Church and the Archangel Church were all flooded. "Also, the St. Anthony Church was damaged because it is built below ground level."
Edited translation from Al-Masry Al-Youm