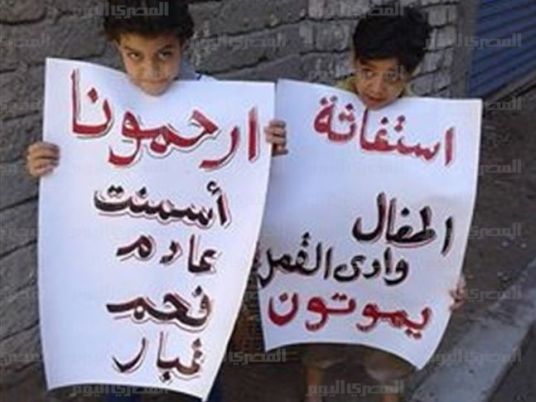 Thick smoke from a diesel fuel tank fire inside a Wadi al-Qamar cement plant caused smoke inhilation among many residents, including children, in Alexandria Monday.
Residents previously filed a lawsuit and called on President Abdel Fattah al-Sisi to transfer the plant to an industrial area, away from the residential area.
They also sent a letter to Titan Cement Company regarding the Monday's incident, said Mohamed Ibrahim, a member of the Wadi al-Qamar Youth Union.
Ibrahim described the factory as a catastrophe for the area, adding that residents do not have immediate access to hospitals and already suffer from thoracic diseases due to pollution from the cement dust.
The Socialist Popular Alliance Party in Alexandria announced its support for the residents' demand that the cement plant be transfered to a non-residential area.

The factory is an environmental ticking bomb in the heart of a residential area, the party said in a statement. Party leader Mohamed Sherif said the use of coal as a source of energy to run the factory aggravates the problem and the absence of control over the plant led to the explosion of the diesel fuel tank.
Regarding the residents lawsuit to move the plant out of the area, Sherif said the verdict was postponed to October 4 and a report by the Board of State Commissioners of the State Council has recommended the immediate closure of the plant.
Edited translation from Al-Masry Al-Youm