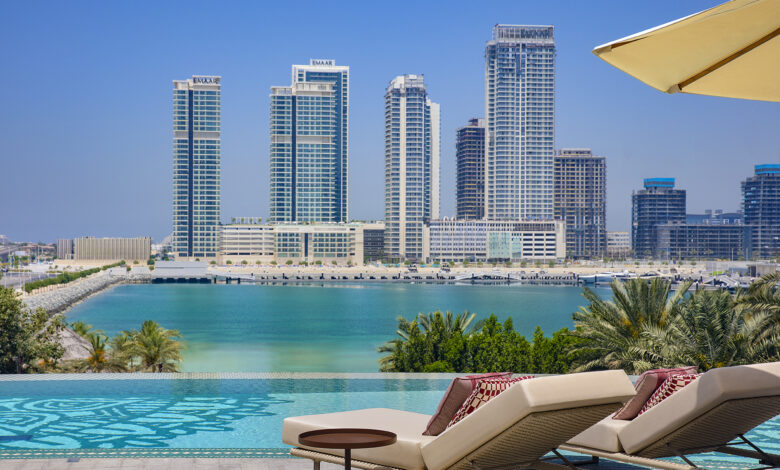 Located on the luxurious, mostly demanded Jumeirah Beach coastline, W Hotels Worldwide, part of Marriott Bonvoy's portfolio of 30 remarkable hotel brands, has inaugurated in April the magnificent  W Dubai – Mina Seyahi.
The 31-storey hotel has a unique facade building exhibiting spectacular glass architecture overlooking the panoramic view of Dubai skyline.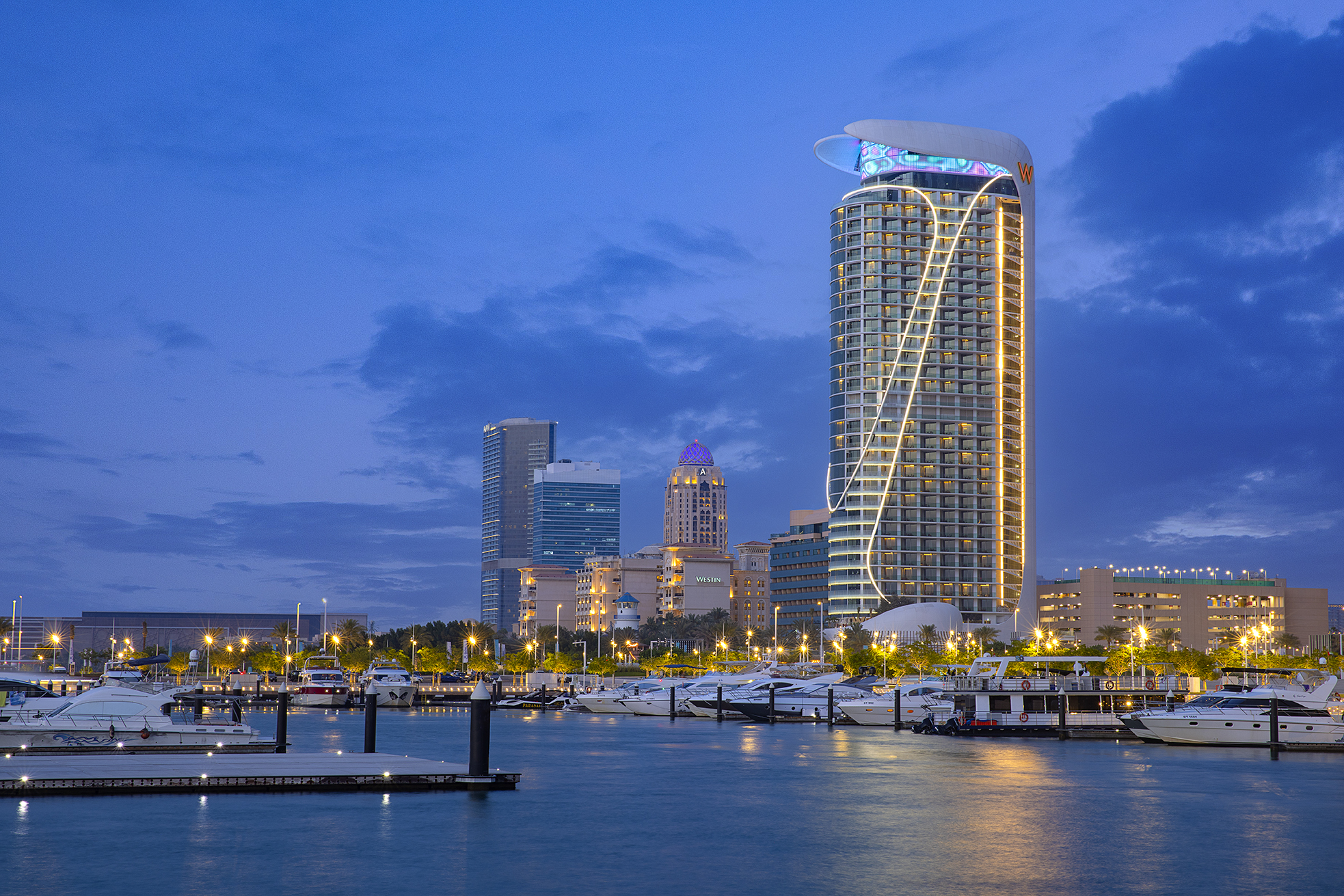 "Dubai is an always-on, high-energy city with a growing luxury lifestyle scene, making it the perfect destination for the iconic W Hotels brand," said Candice D'Cruz, Vice President – Luxury Brands, Europe, Middle East & Africa, Marriott International.
"W Dubai – Mina Seyahi is the third W hotel to launch in the UAE and reflects its world-famous culture and social vibrancy, and brings the W brand's signature style of luxury to travelers looking for new ways to celebrate the destination. Guests and locals can expect the unexpected with intriguing spaces, vibrant dining experiences and dynamic programming." 
A Storied Design Journey
The design of the hotel represents the intertwined fabric of the city's rich historical, cultural and social backgrounds. 
The artfully designed porte-cochère welcomes guests upon their arrival. Once they step foot in the hotel, an eye-catching Welcome Desk is located on the ground floor. It displays a vivid mixture of colors and textures and is Inspired by the romanticism of a snake charmer.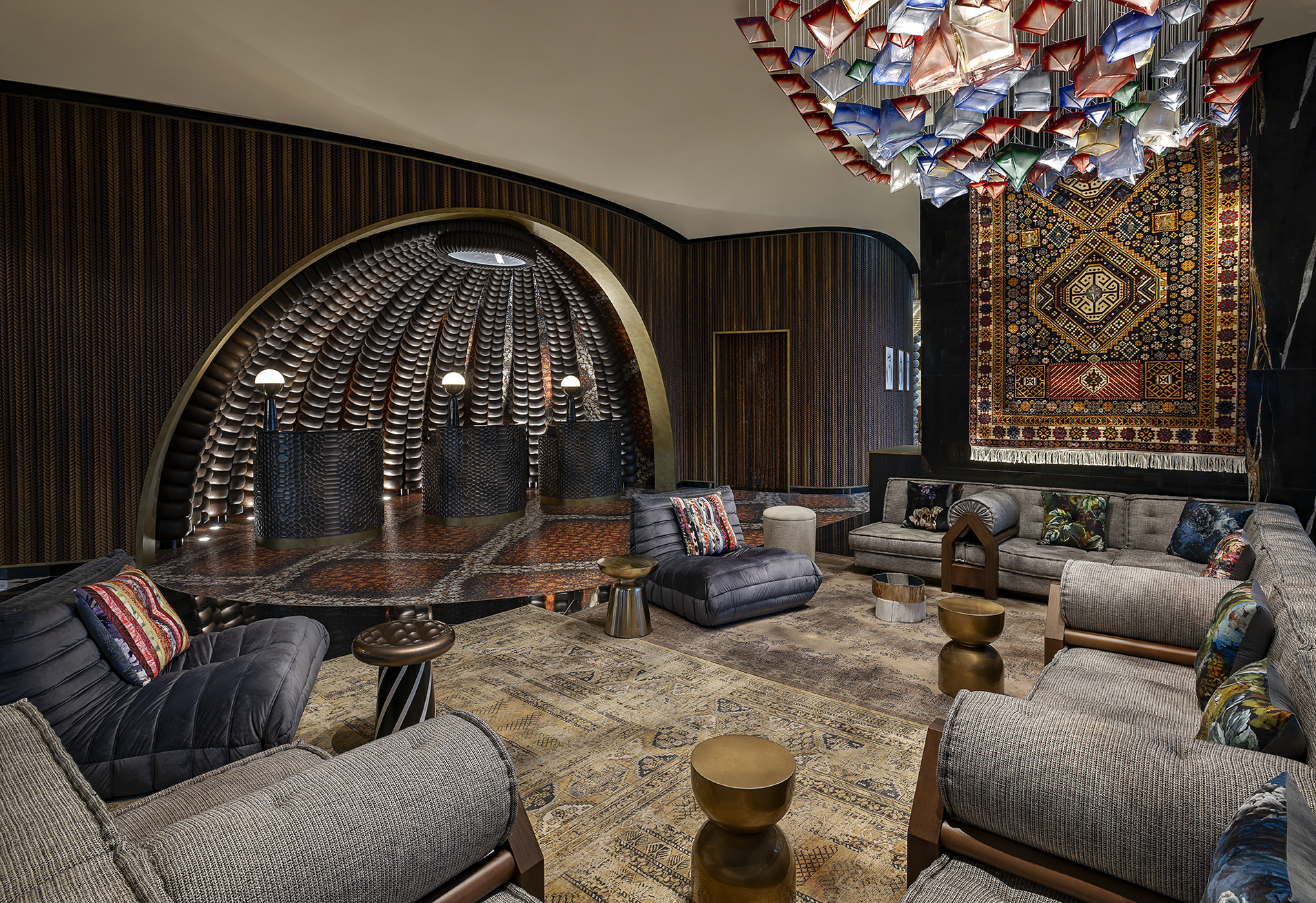 The W Lounge– the brand's take on the hotel lobby – creates an authentic atmosphere of the Middle Eastern gold souks, ornamented by warm hues and gold accents to take guests through a high-spirited​​, modern-day bazaar experience.
"Local and international tastemakers with a passion for music and design will experience Dubai's bold spirit through the W lens at W Dubai – Mina Seyahi," said Tolga S Lacin, Area General Manager. "Ideally located with access to the city's happenings, the hotel brings visionary dining concepts and its legendary Whatever/Whenever® service philosophy, and guests can expect modern luxury delivered in a completely unique, surprising way."
W Dubai – Mina Seyahi comprises 318 rooms including 27 suites – with balconies overlooking the ​​breathtaking view of the Arabian Gulf, Palm Jumeirah Island and must-see attractions, including the Ain Dubai.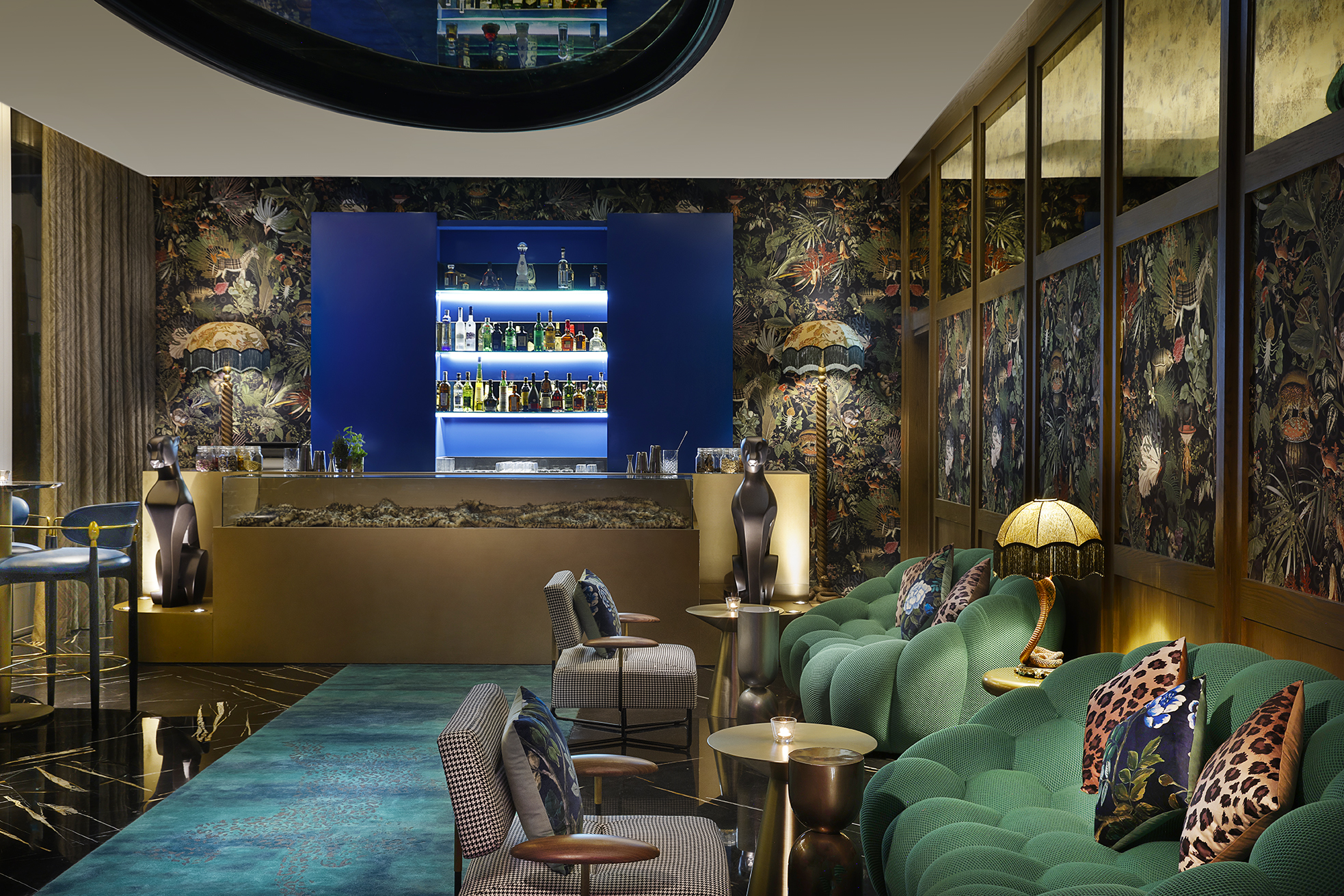 The design fuses accents of traditional Middle Eastern factors in a vibrant, inviting venue with festive twists. The interiors and custom finishings are distinguished by highly textured fabrics with modern luster touches. 
The hotel promises an unforgettable experience to its guests with the Extreme WOW Suite– W's twist on a Presidential Suite. Located on the 30th floor, the 285-square-meter suite features two spacious bedrooms, a lounge, dining area and a balcony with an awe-inspiring view. 
Something for Every Appetite:
W Dubai – Mina Seyahi offers plenty of venues when it comes to tasty, exotic cuisines, including WET Deck, ATTIKO and Malakita that are worth trying.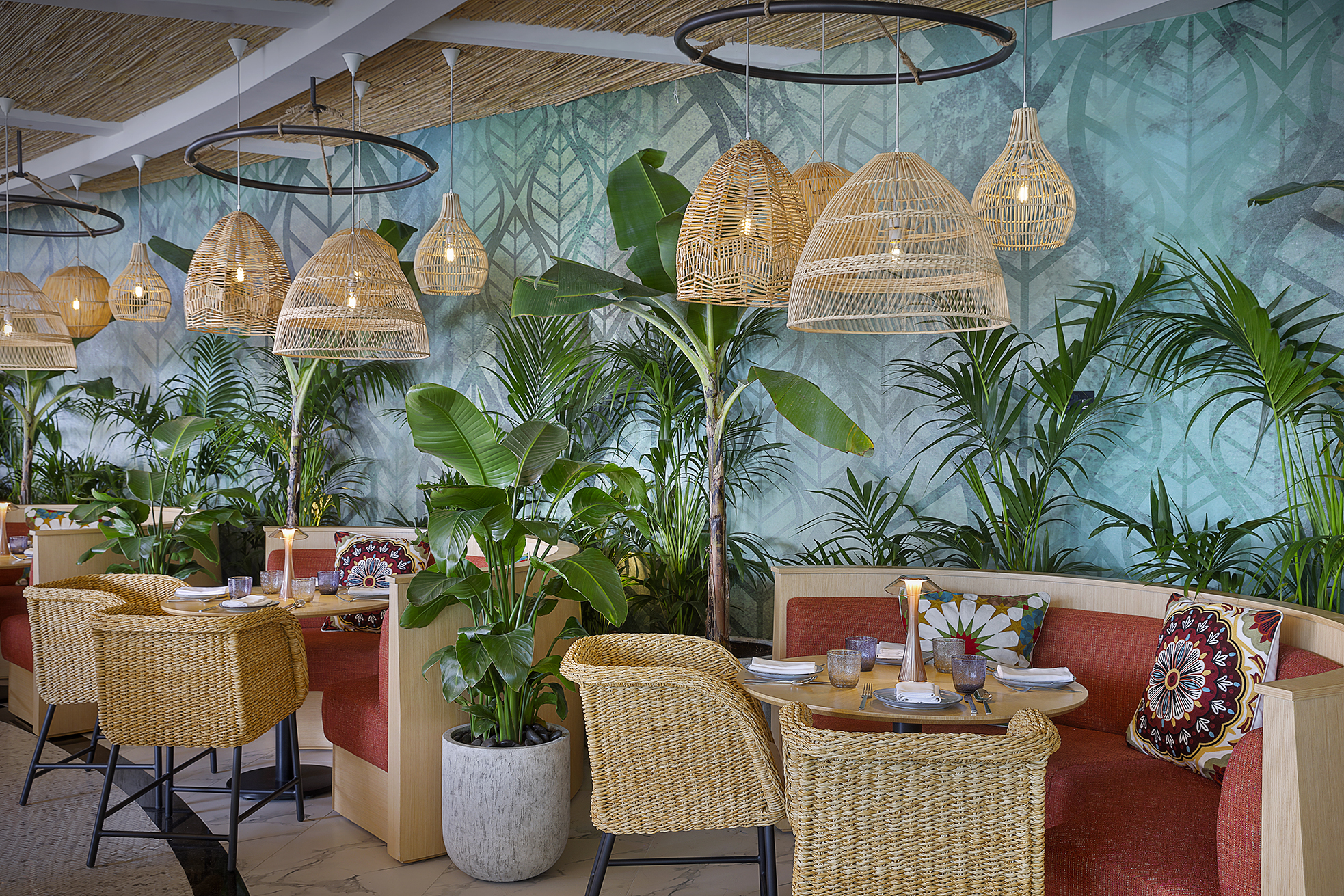 Also, don't miss the urban beach club experience serving various menus for lunch and dinner at Ginger Moon. It provides both indoor and outdoor settings featuring an expansive terrace leading to an infinity pool to create the ultimate hospitality experience.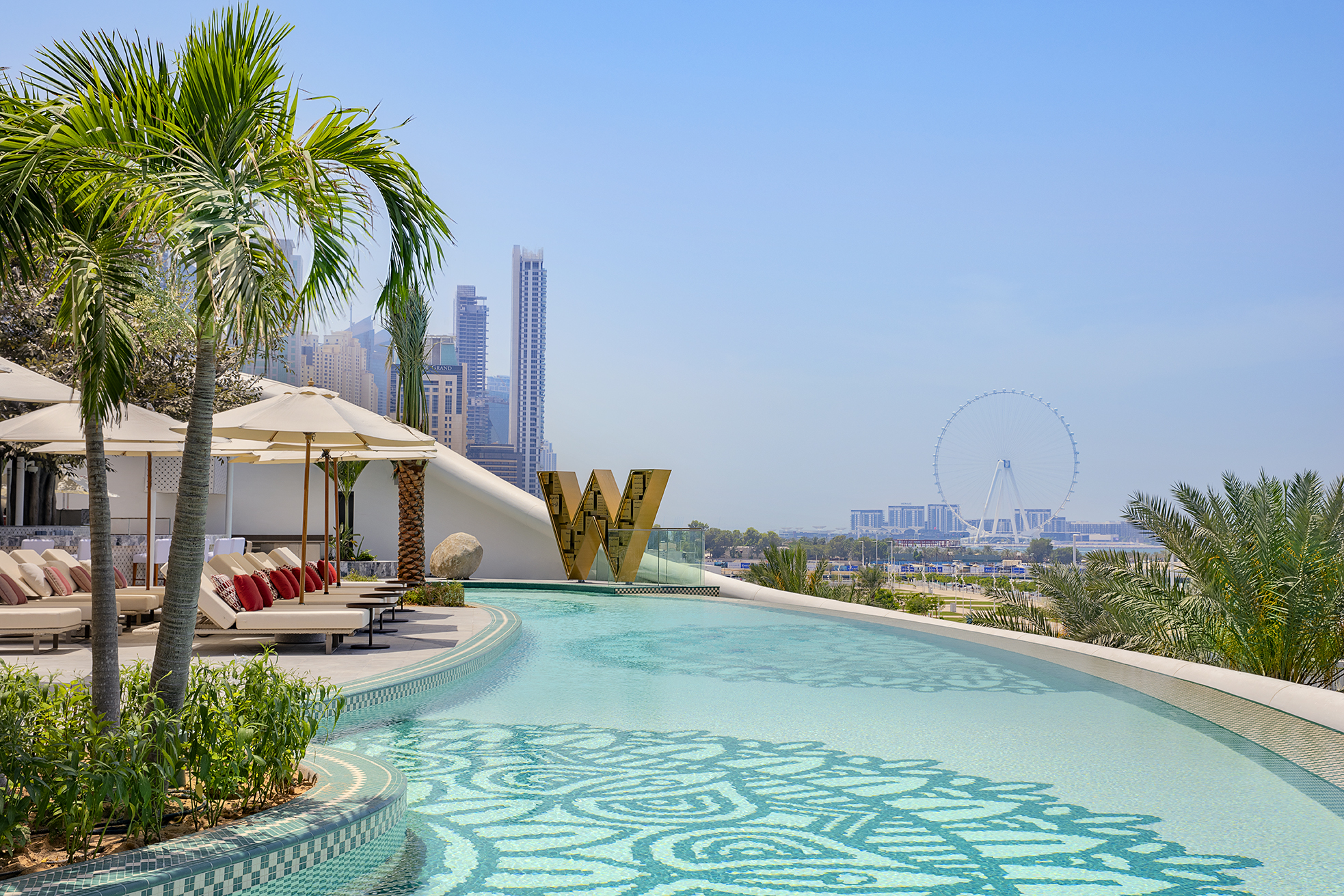 Sip and Relax 
If you need to relax the stress away, the hotel will take you into a unique, wellness journey in its BAR-B spa. From four treatment rooms to a beauty bar and relaxation areas, it is the perfect place to pamper yourself and delight your senses.  
And as if that is not enough, the fitness center – 1REBEL/FIT is set to open its doors for the first time in the UAE in 2023. The ultimate sports-luxe fitness experience will be stretched on 2,500 square meters and a dual-storey studio in the hotel. 
Connect at W:
In an effort to create an ultimate hospitality experience, W Dubai – Mina Seyahi provides three distinct Studio spaces where guests can hold meetings and luxurious social gatherings in addition to celebrating big, momentous occasions. The Studios provides a pre-function space with an open-air terrace. All venues are fully-functional and ready to serve 120 guests.