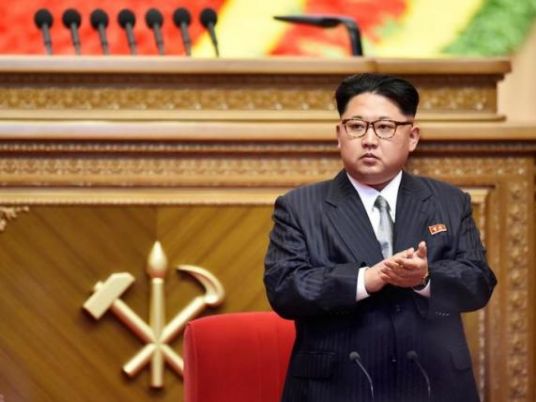 The nerve agent VX, a chemical the United Nations classifies as a weapon of mass destruction, was used to kill the estranged half-brother of North Korean leader Kim Jong Un in a bizarre murder in Malaysia last week, police said on Friday.
Kim Jong Nam was killed on February 13, shortly after being assaulted at the airport in the Malaysian capital, Kuala Lumpur, by two women who wiped the chemical on his face as he prepared to board a flight to the Chinese territory of Macau.
South Korean and US officials have said they believe North Korean agents assassinated Kim Jong Nam. He had been living with his family in Macau under Beijing's protection and had spoken out against the North Korean regime.
Malaysian police were investigating whether the VX – which is believed to be the most toxic known nerve agent and is banned globally except for research – was brought into the country or made there.
"If the amount of the chemical brought in was small, it would be difficult for us to detect," police chief Khalid Abu Bakar told reporters.
The two women suspects – one Vietnamese and the other Indonesian – are in police detention along with a North Korean man. Seven other North Koreans are wanted in connection with the case, including a diplomat at the embassy in Kuala Lumpur.
Malaysia has repeatedly urged the victim's family to come forward to help with the inquiry, while North Korea has demanded the body be handed over to its embassy directly, sparking tension between the two usually friendly countries.
Malaysia's chemical weapons analysis unit found traces of VX, or S-2 Diisopropylaminoethyl methylphosphonothioate, on swabs taken from the eye and face of the victim, according to police.
"Other exhibits are under analysis," Khalid said in a statement, citing a preliminary report.
Police have said the two women were paid to carry out the assault and had been told to wash their hands before fleeing from the airport. They had rehearsed the attack in shopping malls before carrying it out on Kim.
One of the women had suffered from the effects of the chemical and had been vomiting, Khalid said.
Airport camera footage released on Monday by Japanese broadcaster Fuji TV shows the moment they assaulted Kim Jong Nam.
In later clips he is seen asking airport officials for medical help, and rubbing his eyes and stumbling as he entered an airport clinic. Authorities said he complained of dizziness and died on the way to hospital.
Authorities raided an apartment in an upscale Kuala Lumpur suburb on Wednesday in connection with the killing, but no chemicals were found, said an official with direct knowledge of the matter.
Fatal Within Minutes
VX is tasteless and odorless, and is outlawed under the Chemical Weapons Convention, except for "research, medical or pharmaceutical purposes". It can be manufactured as a liquid, cream or aerosol.
Experts say it has no commercial uses.
"This is not something you make in a kitchen lab. This is something that is made in a very sophisticated chemicals weapons lab," said Bruce Bennet, a senior defense researcher at the California-based RAND Corporation.
North Korea is believed to have the world's third-largest stockpile of chemical weapons, according to the Nuclear Threat Initiative project, which analyses weapons of mass destruction.
South Korean analysts have identified sarin and VX as the focus of the North Korean chemical weapons program.
VX in liquid form can be absorbed into the body through skin or eye contact and does not evaporate easily.
Exposure to VX quickly progresses from nausea to convulsions and respiratory failure before death, according to the US Centers for Disease Control and Prevention (CDC).
It can be fatal after 15 minutes, according to the US Army's Edgewood Chemical Biological Center.
Police chief Khalid said authorities intended to sweep Kuala Lumpur airport, and other locations the suspects had visited, for "radioactive" material.
VX is not known to contain radioactive elements and Reuters calls to police for clarification went unanswered.
Malaysian authorities on Thursday requested Interpol to put an alert out to apprehend four North Korean suspects who are believed to have fled from Malaysia on the day of the attack.
They also want to question the second secretary at the North Korean embassy, though he has diplomatic immunity.
The murder has strained relations between North Korea, which has been increasingly isolated in response to its nuclear and missile programs, and Malaysia.
North Korea has said Malaysia should be held responsible for the killing of one of its citizens, though it has not acknowledged that the victim is the half brother of North Korean leader Kim Jong Un.
Malaysia has recalled its ambassador from Pyongyang for consultations.
Additional reporting by Tom Allard, A. Ananthalakshmi, Liz Lee and Joseph Sipalan; Writing by Kanupriya Kapoor and Praveen Menon; Editing by Simon Cameron-Moore; Reuters