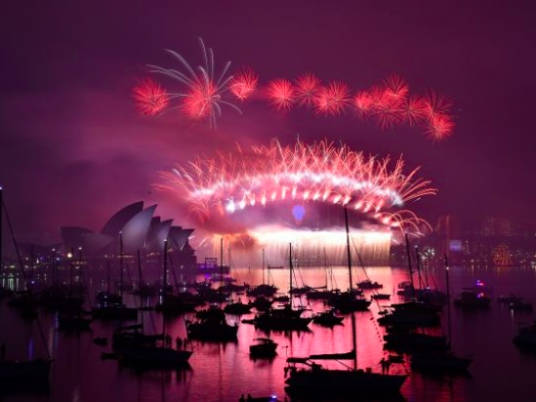 The annual Vivid Sydney winter event in the Australian capital combines light installations, music venues and creative conferences and this year will begin on May 27 and run for 23 nights, the longest Vivid Sydney in the festival's eight-year history. Last year it attracted a record 1.7 million visitors.
Among this year's highlights are a brand new, virtual reality exhibition, Bjork Digital; a performance by New Order and a conference session with Jenji Kohan, creator of "Orange is the New Black."
Vivid Sydney takes place across three categories: "Vivid Light," "Vivid Music" and "Vivid Ideas."
Vivid Light
Vivid Light will feature over 80 large-scale light installations and artworks throughout the city. For the first time at Vivid Sydney, the sails of the Sydney Opera House will celebrate the work of Australia's indigenous artists with a projection entitled "Songlines." This artwork will bring together six indigenous artists whose work highlights the connections between indigenous astronomy and the natural world, the celestial and terrestrial "Songlines" that weave through time and distance. Vivid Light will also feature installations in Chatswood, Central Park, Darling Harbour, the Australian National Maritime Museum, Martin Place and a new indoor space, "The Galeries." The Royal Botanical Gardens will feature a 60-meter Cathedral of Light made from hundreds of thousands of white LEDs. Finally, the Taronga Zoo will be lit up by multimedia sculptures of 10 endangered species.
Vivid Sydney 2016: Cthedral of Light by Mandylights at Royal Botanic Garden Sydney.
Vivid Music
Vivid Music will feature a lineup of 42 performances scheduled throughout the festival. The world premiere of Bjork Digital, a new virtual reality exhibition from the Icelandic artist set across five spaces, will feature new, 360-degree virtual reality videos. To celebrate the opening of Bjork Digital, Bjork will curate a music event and DJ with special guests in Sydney. Other highlights will include performances by pop legends New Order, indie folk band Bon Iver and jazz artist Esperenza Spalding at the Sydney Opera House.
Vivid Sydney 2016: Fountain at Martin Place ― artist impression by Ample Projects
Vivid Ideas
Vivid Ideas hosts entrepreneurs and creative thinkers and features a series of conferences and debates around the business of innovation and imagination. Highlights include "The Sunrise" that examines Australia's start-up culture. The "Media Architecture Biennale" 2016 will explore how technology and digital media can be used to create more livable cities. This year's "Game Changers Talk Series "will feature acclaimed director Spike Jonze ("Being John Malkovich"), "House of Cards" director Beau Willimon and "Orange is the New Black" creator Jenji Kohan.
The 8th annual Vivid Sydney is managed and produced by the New South Wales Government's tourism and events agency, Destination NSW. The festival takes place from Friday May 27 to Saturday June 18, 2016.