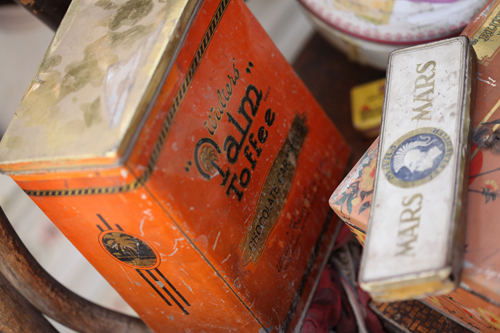 It's 8 am on a Friday and "Souq al-Gomaa" (the Friday Market) is already grumbling with vendors and clients. Since a fire broke out in the center of the market in 2010 and the government demanded it move to the 15th of May district, the "good old days" have never returned.
The market begins under the Tonsi flyover and crawls through the tiny streets of the Khalifa district, an impoverished area on the outskirts of Basateen. Once a bustling mad-house of buyers, tourists, pick-pockets, bird-sellers and side-street singers, the souq is now row after row of old goods: broken computers and radios, second hand gadgets in rough shape, and furniture — new and old.
The main clientele these days: antique dealers.
Closer to the bottom of the bridge, vendors have sifted through their junk and prized possessions like standing antique safes and wooden bird cages stand in full display. As you head off into the side streets, huge piles of broken furniture and wrought iron fences bury treasures for the more adventurous to find.
Um Mostafa claims she has worked in the souq for 30 years — living through the fire and developing her vending location. "I'm not sure if we'll be around much longer," she mumbles, "they want to take the souq away."
Although this was the initial plan, many vendors in the souq believe that the idea has been tabled since the revolution.
"A lot of people still worry about getting bulldozed," says Lotfy Said, a computer parts seller, "but I've decided to just keep living, keep selling. What's the use of worrying?"
There is beauty amidst the madness in the souq. Between the broken pieces of computer hardware and under the pile of rusted chandeliers one can find the perfect ancient nut grinder that you can attach to your kitchen counter or the vintage siphon seltzer bottle of your dreams.
But where does it all come from?
"I have a friend who collects robabekya," says Ayman Maged, a young seller manning his father's spot, referring to second-hand goods. "I look through his collection, and I may take it all, but I know which pieces are going to sell." Maged's shop is well shaded; a fan whirrs in the corner and a show plays on TV.
A small painted statue of a woman stands out amidst the dusty metal irons on a corner table. "She's from the1920s," he claims.
Samir sells doors. "I get my doors from junk yards and occasionally villas being torn down," he explains. "Can you imagine someone throwing this out?" he asks, pointing to a wooden pair of doors with colored stained glass — "LE2000, he tells me confidently."
Um Mostafa has her sons and their friends gather goods for her. "They know when a house is being sold, when someone has died, they go to see what people are getting rid of," she explains. Her shop has everything from old photographs to crock water filters and cigarette tins.
"I don't take everything they bring me — they're young and inexperienced and they don't know what to look for. I know what people want to buy and what is important."
"There's something for everyone here," says Maged, "antiques for the dealers, furniture for the newly weds, spare parts for the computer makers."
The sun beats down by 10 am. Seemingly seasoned foreign antique dealers drift by the vendors and point out unusual items. Local clients haggle over second hand vacuum cleaners and water heaters. Most of the vendors are used to the foreigners but clients gawk at purchases of meat blocks and good money spent on Sinalco soda fridges that no longer work.
The lack of reactions to a photographer as she snaps photos is surprising, but Zeinab, a particularly grumbly vendor makes a remark. "I know your type," she says. "You'll take pictures and show them to people before you come back and buy."
As we stop for a breath and a seat on a chair, the chair maker appears out of nowhere. "Did you want the chair? It is mine," he says, "I make them if you want to order some."
This piece was originally published in Egypt Independent's weekly print edition.