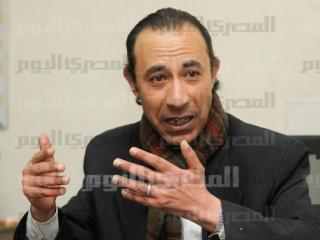 The state-run Egyptian Radio and TV Union (ERTU) is intending to sue the Saudi-owned, UAE-based MBC network over a comedy skit that mocked what the show presented as the ERTU's out-of-date style and poor program quality.
ERTU chief Essam al-Amir told satellite TV channel AlKahrea Wal Nas late Saturday that he was going to take "legal action" against MBC over Akram Hosni's show, "Asaad Allah Masakom" (Good Evening), which featured the comedian in a skit where he makes fun of the Egyptian state TV.
"With that song, Akram Hosni intends to undermine Egypt's state TV," al-Amir said, adding that the ERTU would take legal action if an official apology is not announced by the Dubai-based network.
According to al-Amir, the incident comes "during a time when we are supposed to preserve Egyptian-Saudi relations."
"I am asking the MBC about the size of the Egyptian labor it is employing and whether it can dispose of them," said al-Amir, in separate statements to Al-Masry Al-Youm, accusing Hosni of using state TV material as old as 20 years to establish his punchline.
"Nobody can deny Egypt's TV contribution to Arab culture. It is the region's oldest TV service, at 55 years of age, while Egypt Radio is 81 years old," al-Amir said. "Our media figures were the ones who established radio services across the Arab World and I am sure the content of that episode would not please any of our Saudi brothers in charge of the channel."
Responding to the accusations, Akram Hosni said his criticisms were justified. "What I did was critique the state TV's content because it cannot cope with being in the year 2015," he told AlKahera Wal Nas on Saturday. "The problem with people in charge of the Egyptian TV is that they are unaware that spectators are watching programs on various satellites."
Hosni maintained that what he mocked in his performance was "reality", adding that he found no need to apologize because he did nothing wrong.
In the clip, Hosni was playing a piano while a fellow performer sang the lyrics.
"A night show as old as my grandpa, a bygone movie, and they say it is exclusive, it's Egyptian TV," says the opening couplet of the lyrics, which later mocked the service's female presenters as "dressed like Santa" and lambasted the ERTU for having "spent too much for no financial return."
Since the 2011 uprising, people have called for the ERTU to address its massive manpower and restructure its assets, as many believe it is incapable of challenging more popular satellite channels.
Edited translation from Al-Masry Al-Youm