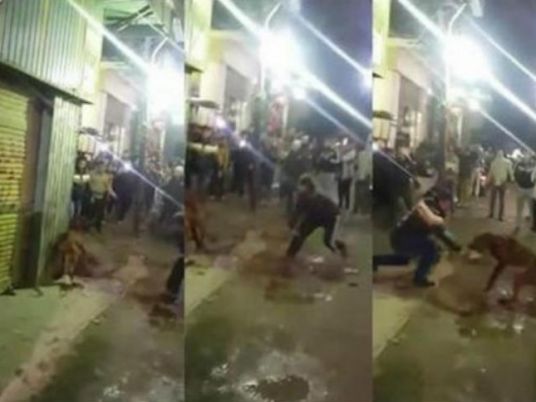 The security forces in Qalyubiya arrested Thursday two men appearing in a violent video circulated on the social media, where they can be seen torturing and stabbing a dog on Al-Ahram Street in Shobra al-Kheima, after tying it to a lamp post.
The two defendants are Amr Ibrahim Atta Ibrahim, 28, who works as a butcher, and Ahmed Ezzat Abdel Mo'ty, 32. During interrogations, both defendants admitted to participating in the incident.
Eyewitnesses and the dog owner said the dog was killed due to a fight between the dog's owner, Mohamed Sayed, known as Ousha, and other residents of Al-Ahram Street, during which Ousha's dog, Max, defended him and bit eight people.
Two of the bitten men filed a claim against Ousha, who was sentenced to one year in prison.
The two litigants refused to waive the claim unless Ousha handed them over the dog to be publicly slaughtered.
The brutal incident has triggered the anger of Facebook and Twitter users, who have called for prosecuting the killers, using the "Al-Ahram Street dog" hashtag. They have also denounced the dog's owner, describing him as a traitor to his loyal dog.
Chairperson of the Egyptian Society for Mercy to Animals Mona Khalil condemned the incident during a phone-in on Al-Hayat Channel Wednesday evening.
"This is an unacceptable crime by any heavenly religion and animal abuse is the beginning of the emergence of every criminal in the society," said Khalil.
The Egyptian Society for Mercy to Animals will file a claim on Thursday against the perpetrators and the dog's owner, she added. Khalil expressed regret at the absence of deterrent laws to defend animals rights in Egypt.
The mass poisoning of cats at the upscale al-Gezira Club in Zamalek in August 2014 had also provoked the anger of social media users. Many animal rights organizations have filed complaints against the club's management over the incident.
In 2013, Australia suspended livestock exports to Egypt following the circulation of a video that was reportedly taken at an Egyptian slaughterhouse, for cutting cattle ears before slaughter, a practice banned in Islamic Sharia law.
Individual efforts are the basis of animal rescue incidents in Egypt, where environment laws are mostly not implemented, animal rights are viewed as a luxury and complaints of animal abuse are usually ignored or ridiculed by the police.
Stray cats and dogs are poisoned and shot as means of limiting their population, while animals at the zoo and pet shops are sometimes kept under inhumane conditions. The lack of animal care and environmental awareness campaigns adds to the problem of animal abuse in Egypt.