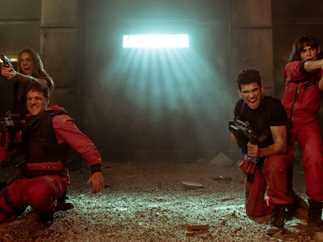 Netflix revealed the trailer of the fifth and final season of the action series "Money Heist" (also called La Casa de Papel), premiering on September 3.

The promo received 2.5 million views so far since its launch on Monday.
"100 hours seem like 100 years," this is how "Tokyo" describes her feeling in the official ad where "the professor" reveals that his hideout has been discovered, while Colonel Tamayo prepares the army to storm the Bank of Spain.
The trailer shows one of the most mysterious moments for the gang, who are on the verge of complete defeat.
The events of the fifth season take place as the gang has been detained inside the Bank of Spain for more than 100 hours, during which they managed to save Lisbon. The most difficult moments though befall them after losing one of the gang members, and the professor is arrested by "Sierra".
And just when the situation seems like it couldn't get any worse, an enemy comes into the arena more powerful than they've ever faced – the Army.
The end of the greatest robbery in history approaches, and what started as a bank heist will end as a war.
The fifth season will be released in two halves with the first on September 3 and the second on December 3.