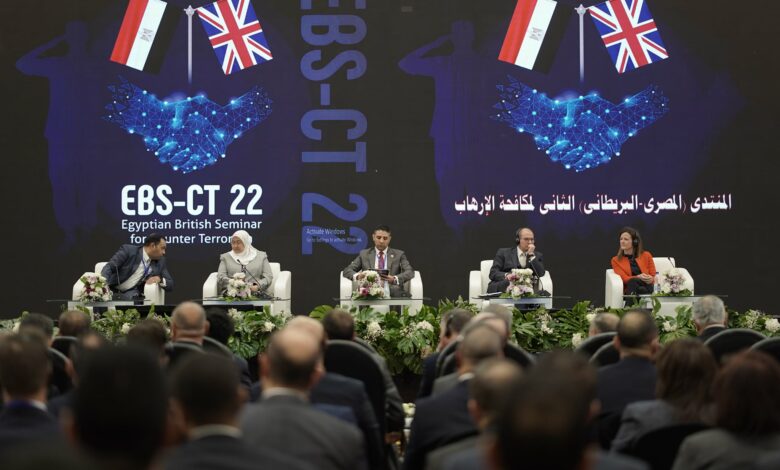 The Egyptian Armed Forces organized the Egyptian British Seminar for Counter Terrorism (EBS-CT 2022) on Tuesday within the framework of the Armed Forces' keenness to support cooperation and transfer expertise with friendly countries.
The spokesman for the Egyptian Armed Forces, Gharib Abdel-Hafez, said that the activities of the EBS-CT 22 come within the framework of the armed forces taking executive measures based on scientific foundations to confront all the causes of the phenomenon of terrorism.
The forum's activities began with a speech by Head of the Military Intelligence Service Khaled Megawer.
He expressed his welcome to the British delegation and the participating elements.
He stressed the importance of transferring and exchanging experiences to keep pace with the successive developments in the field of combating terrorism.
The success of the Egyptian experience in combating terrorism relies on scientific foundations to confront all causes of the phenomenon.
For his part, British Air Marshal Joy Martin Sampson, Senior Advisor to the British Chief of Defense Staff for Middle East and North Africa, hailed the strategic relations with Egypt, stressing the importance of cooperation to fight terrorism.
The seminar included a number of lectures and debates that focus on threats and challenges posed by terrorism, as well as the psychological and social dimensions of this phenomenon.
The cyber security seminar was attended by an array of academics and expertise from both sides.
The forum's activities were attended by commanders of the armed forces, leaders from the Interior Ministry, members of the Foreign Ministry, the Administrative Control Authority, some university presidents and professors, students of the Nasser Higher Military Academy and the College of Commanders and Staff, some tribal chiefs from Sinai, in addition to MPs from the House of Representatives and Senate.