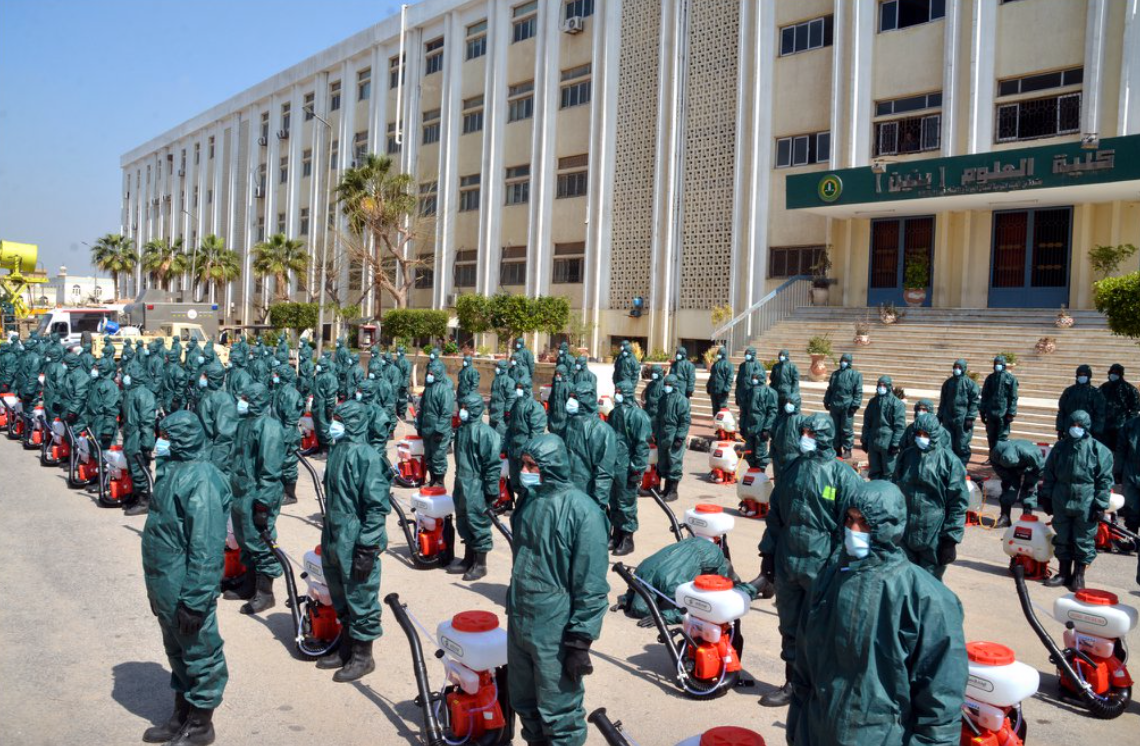 Egypt's Armed Forces have assigned the Chemical Warfare Department to sanitize state institutions and locations for large public gatherings in an effort to stop the spread of the coronavirus (COVID-19) outbreak, according to Military Spokesperson Tamer al-Rifai.
During a Wednesday phone interview with Ahmed Moussa's "Ala Masouliti" on Sada el-Balad channel, Rifai said that the Armed Forces have already moved to sanitize Cairo and Ain Shams Universities.
#المتحدث_العسكرى : القوات المسلحة تعاون جامعة القاهرة لتنفيذ كافة الإجراءات الوقائية والإحترازية لمجابهة فيروس " كورونا " … pic.twitter.com/E6MXzSgeeW

— المتحدث العسكري (@EgyArmySpox) March 18, 2020
Rifai denied that military airplanes were used to spray disinfectants, however.
The Armed Forces will announce measures for confronting the spread of the coronavirus outbreak on its official website and facebook page, he added.
Rifai underlined that the army is able to serve citizens during any time of crisis.
Meanwhile, the Egyptian Armed Forces' Chief of Staff Mohammed Farid inspected on Sunday the military equipment used to stop the spread of the coronavirus outbreak nationwide, including firefighting vehicles with antiseptic solutions for disinfection and sanitization in open areas, as well as an air exhaust system to disinfect flats and buildings.
Egypt has confirmed 210 cases of coronavirus and six deaths.
The latest deaths from COVID-19 recorded on Tuesday are of a 78-year-old Italian national and a 70-year-old Egyptian from Cairo Governorate, both of whom succumbed to the virus while under quarantine in an isolation hospital.
A 72-year-old German national who passed away in Luxor Governorate and a 50-year-old Egyptian man from Daqahlia Governorate have also died from the virus.
The first two deaths from COVID-19 in the country — one a 60-year-old German tourist who tested positive in the Red Sea resort town of Hurghada after having traveled in Luxor and the other a 60-year-old woman from Daqahlia — were reported on March 8 and March 12 respectively.
Earlier this week, Health Minister Hala Zayed ordered "strict" measures be implemented to contain the spread of the virus in the Governorates of Daqahlia, Damietta, and Minya, which the Ministry says have recorded the highest number of individuals who had contact with previously confirmed cases.
Egypt has placed 300 families in Dakahlia under quarantine in efforts to contain the outbreak in the Governorate, while Red Sea Governor Amr Hanafi ordered on Tuesday a halt to domestic tourism in the area and placed employees in hotels, resorts, restaurants, and other areas frequented by tourists under quarantine for two weeks before they will be allowed to return to their hometowns.
Egypt also closed schools and universities across the country for two weeks, and incoming and outgoing flights will be suspended starting Thursday at 12 pm and lasting until March 31.
Prime Minister Mostafa Madbouly also issued a resolution on Tuesday to reduce the number of workers in government departments and agencies, instructing work from home whenever possible, as part of Egypt's various precautionary steps to prevent the spread of COVID-19. 
On Sunday the media adviser to the Prime Minister, Hany Younis, denied a widely-circulated rumor across social media that the Egyptian cabinet would impose a curfew starting Tuesday, March 17.
Authorities in both Tunisia and Iraq moved this week to impose curfews as part of extraordinary measures to fight the spread of coronavirus.
The Egyptian cabinet's media center has designated two new 24-hour hotlines on WhatsApp for citizens to report "rumors" regarding the novel coronavirus, and has warned that those who spread misinformation about the disease online will face legal measures under the penal code and cyber-crime law.