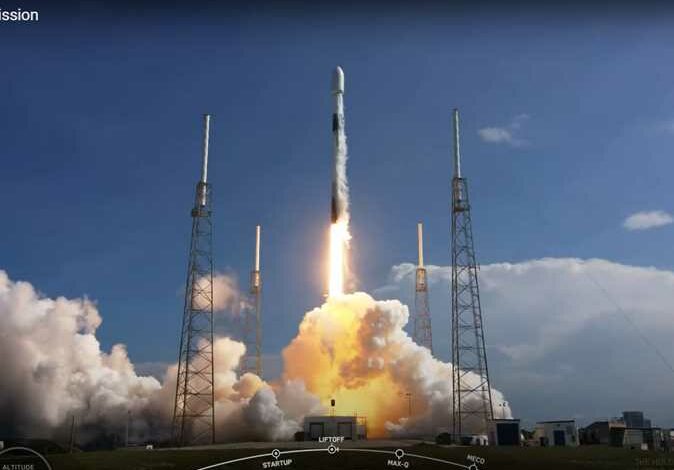 On Wednesday evening, Egypt successfully launched the new satellite "Nilesat 301", aboard the Falcon 9 rocket of the US
"SpaceX" company in Florida, at 11:03 pm Cairo time.
The process of separation from the rocket took 32 minutes since the launch process
It took a further 38 minutes for the first signal to work from the satellite that was received.
The launch ceremony was attended by Chairman of the Board of Directors of the Egyptian Satellite Company Ahmed Anis, Chairman of the National Media Authority Hussein Zein, and leaders of the Egyptian Satellite Company.
Millions of Egyptians in Egypt's cities and villages watched the launch of the new satellite, bringing about a qualitative leap in the satellite broadcasting sector in Egypt.
The launch of the new satellite comes after the completion of the testing operations that were carried out on the satellite after it was transferred from the manufacturing headquarters in Thales company, France, to the launch base of Cape Canaveral in Florida.
The manufacturing process of Nilesat 301 took nearly two and a half years.
And the new satellite will be the alternative to the "Nilesat 201", which expires in 2028, as it has many modern technological advantages that enable it to continue competing in the broadcasting area.
The Nilesat 301 includes 38 channels, compared to 26 channels in "Nilesat 201."
The satellite expands its coverage to include the countries of southern Africa and the Nile Basin countries, with the aim of achieving greater communication with the peoples of the African continent.
The new satellite can provide broadband internet services to cover Egypt, new infrastructure projects, new urban communities projects, and oil fields in the eastern Mediterranean, especially the Zohr Field.
Nilesat 301 is manufactured using advanced technology that enables it to identify and treat any source of interference on its own, to provide complete security for the television channels operating on it.
It is also characterized by the ability to maneuver the antennas to change coverage areas according to the needs of African countries, which are a new market for Nilesat satellites.
According to General Manager of Thales, Sherif Barakat, Nilesat 301 is the latest generation of satellites in space and has advantages that are not available in any other satellites.
Barakat told Nile News channel, Wednesday evening, that the new satellite is characterized by a very fast, highly secure transmission of data without interference.
He added that the new 301 satellite is distinguished by its ability to bypass any kind of obstruction that hinders data transmission.