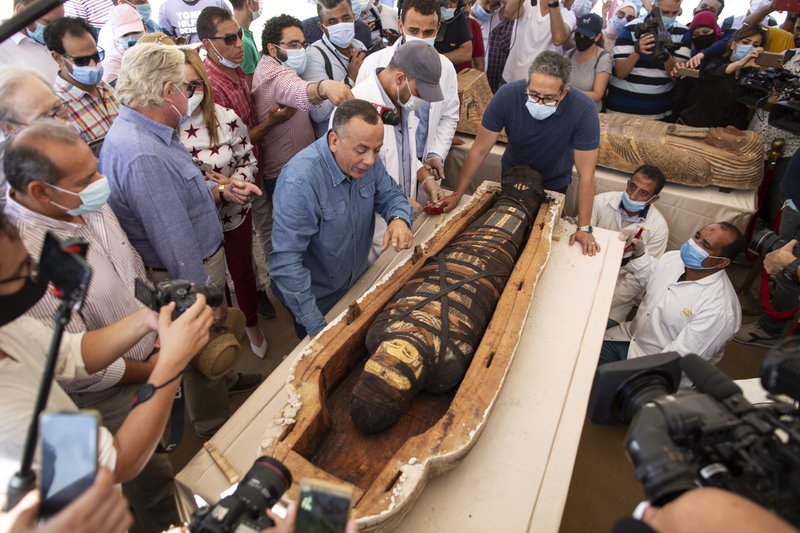 Minister of Tourism and Antiquities Khaled al-Anany announced Saturday that the Egyptian mission operating in the Saqqara area has uncovered 59 well-preserved pharaonic-era coffins.
He made the announcement during a Saturday press conference regarding new archaeological discoveries in Saqqara.
The Secretary-General of the Supreme Council of Antiquities Mostafa Waziri said that the Egyptian missions operating in the country's various archaeological areas have achieved multiple successes in the past four years.
He noted that when work began from the beginning of August, an 11-meter deep well was found with coffins in excellent condition belonging to priests from the 26th dynasty, unopened since 2,500 years.
And in the mission's previous work, Waziri said that several mummified cats had been discovered while clearing rubble, alongside animals such as a mongoose.
Anany has invited ambassadors of various countries in Egypt to attend the press conference announcing the new archaeological discovery.
The discovery of the Saqqara coffins is the largest since the al-Asasif cache was discovered in October 2019.
Image: Khaled al-Enany, Minister of Tourism and Antiquities, right, and Mostafa Waziri, the secretary-general of the Supreme Council of Antiquities, left, react after opening the sarcophagus is around 2500 years old at the Saqqara archaeological site, 30 kilometers (19 miles) south of Cairo, Egypt, Saturday, Oct. 3, 2020. Egypt says archaeologists have unearthed about 60 ancient coffins in a vast necropolis south of Cairo. The Egyptian Tourism and Antiquities Minister says at least 59 sealed sarcophagi with mummies inside were found that had been buried in three wells more than 2,600 years ago. (AP Photo/Mahmoud Khaled)