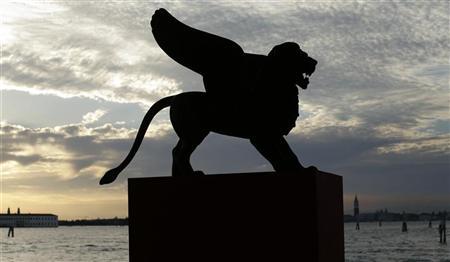 The Venice Film Festival revealed a star-studded lineup for its 72nd annual edition on Wednesday with top Hollywood names center stage in a wide selection of U.S. and international movies.
The world's oldest film festival will open with "Everest", starring Jake Gyllenhaal and Keira Knightley and based on the 1996 climbers' disaster on the world's highest mountain.
In competition are 21 films, including Tom Hooper's "The Danish Girl" starring Academy Award winner Eddie Redmayne as one of the first known people to undergo a sex change operation, and performance artist Laurie Anderson's "Heart of a Dog".
Drake Doremus' "Equals", a romantic science fiction movie starring Kristen Stewart and Nicholas Hoult, also competes as does "Beasts of no Nation", a war drama with Idris Elba.
Italian director Luca Guadagnino comes to the festival with "A Bigger Splash" starring Tilda Swinton, Dakota Johnson and Ralph Fiennes, while Charlie Kaufman, writer of the 1999 cult fantasy-comedy "Being John Malkovich", brings stop-motion movie "Anomalisa".
Also in competition are Argentine director Pablo Trapero's "El Clan", Chinese director Zhao Liang's "Behemoth", Polish director Jerzy Skolimowski's "11 minut", and "Looking for Grace" from Australia's Sue Brooks.
"The program is very varied," festival artistic director Alberto Barbera told reporters.
"The line-up goes from small films which are almost experimental to documentaries and great auteur films as well as great films which seek to innovate the forms used in contemporary cinema .. All in all, there's a bit of everything."
"Black Mass", starring Johnny Depp as criminal turned FBI informant Whitey Bulger, will screen in the out-of-competition line-up.
"Go with Me" with Anthony Hopkins, Julia Stiles and Ray Liotta, also features in that line-up as does "Spotlight" with Michael Keaton and Mark Ruffalo about how the Boston Globe revealed a Roman Catholic clergy sexual abuse scandal.
Martin Scorsese's short film "The Audition" with Robert de Niro, Leonardo Di Caprio and Brad Pitt, is also included.
Mexican director Alfonso Cuaron, known for "Gravity", will head the jury, which includes Hollywood actresses Elizabeth Banks and Diane Kruger. The festival runs Sept. 2-12.