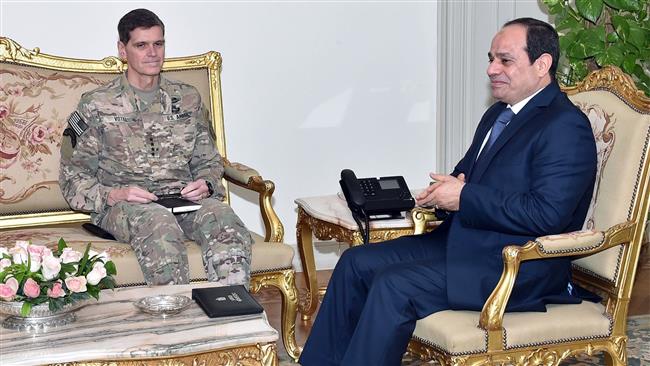 The top commander of US military operations in the Middle East said on Sunday that he wants to resume major military exercise with Egypt, The New York Times reported.
The head of the United States Central Command Gen. Joseph L. Votel met President Abdel Fattah al-Sisi on Sunday in the presence of Egypt's Defense Minister Sedky Sobhy and the US ambassador to Cairo Robert Stephen Beecroft.
"It is my goal to get that exercise back on track and try to re-establish that as another key part of our military relationship," The New York Times quoted Votel as saying.
Votel's comments come amid a general warming of relations between Mr. Sisi and President Trump, who has hailed the Egyptian president as a "fantastic guy," the paper said.
Egypt had hosted the biennial Bright Star Maneuvers until 2011, when former president Hosni Mubarak was toppled after the January 25 Revolution.
Egypt canceled the exercise that year as army forces had been deployed across the entire country to preserve security, as police forces were withdrawn from streets after clashes with protesters.
The US refused to participate in the exercise in 2013, protesting the violent dispersal of pro-ousted president Mohamed Morsi sit-ins at Rabaa and Nahda squares.
These maneuvers used to be the largest multinational exercise training in the world, with nearly 43,000 Egyptian troops taking part.
The Bright Star exercises began in 1980, a year after the signing of the Egyptian-Israeli Camp David peace agreement. The maneuvers were conducted every two years, but were suspended once in 2003 due to the Iraq war.
The Bright Star Maneuver includes practical martial art exercises, with naval and air forces taking part, as well as tanks, artillery and special forces.