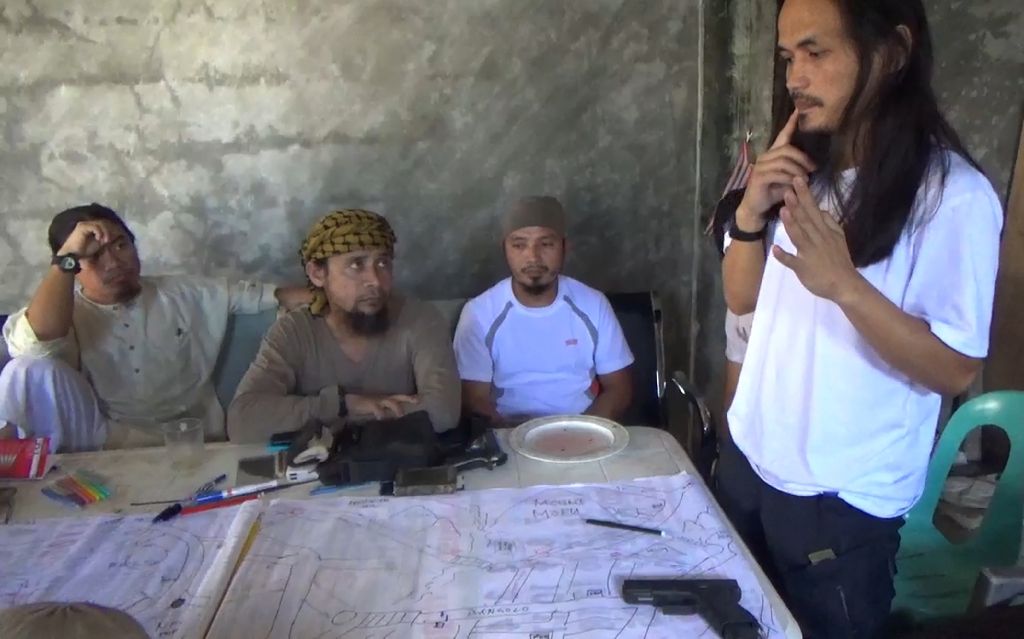 One of America's most wanted terrorists may have escaped a five-week battle with Islamist militants in a southern Philippine city, which began with a raid to capture him, the military said Saturday.
Isnilon Hapilon, a veteran Filipino militant said to be the leader of the Islamic State (IS) group in Southeast Asia, has not been seen in the battle zone in Marawi City, said Lieutenant General Carlito Galvez, head of the military's Western Mindanao Command.
An attempt by government troops to arrest Hapilon in Marawi on May 23 triggered a rampage by Islamist militants flying black IS flags and backed by some foreign fighters who seized parts of the mainly Muslim city.
Philippine President Rodrigo Duterte declared martial law in Marawi and the entire southern region of Mindanao, unleashing an offensive to crush what he said was an attempt by the jihadist group to establish a province in the area.
"He (Hapilon) has not been seen in the area. We have some reports that he was already able to slip somewhere but as of now we are still confirming the reports," Galvez said in an interview with DZBB radio station.
Asked if Hapilon was on the run, he said: "Yes, yes because reportedly he suffered a lot of casualties. Majority of his group, more than half, were casualties."
'Fight to the End'
Hapilon was indicted in Washington for his involvement in the 2001 kidnapping of three Americans in the Philippines, and has a $5-million bounty on his head from the US government, which has his name on its "most wanted" terror list.
He leads a faction of the Philippine militant group Abu Sayyaf that has pledged allegiance to IS.
Security analysts say he has been recognised by IS as its "amir", or leader, in Southeast Asia, a region where the group wants to establish a caliphate.
The military says Hapilon's group had joined forces with another armed militancy, the Maute Group, to launch the Marawi siege, now in its second month.
On Saturday, security forces continued intense air raids and artillery fire on pockets of Marawi still occupied by the militants, while troops fought house-to-house gunbattles.
"We have gained substantial ground," said Galvez, the military commander.
But military spokesman Brigadier General Restituto Padilla said he expects the fighting to continue for a while.
"These people are suicidal. Our assessment is that they will really fight to the end," Padilla said, also on DZBB.
He said the militants are seeking shelter in bunkers and tunnels built by Marawi residents to protect themselves against possible clan wars and unrest related to a Muslim insurgency in Mindanao.
Nearly 300 militants and 67 government troops have been killed in the fighting, according to official figures.
Galvez said there are "strong indications" that two or three of the Maute brothers — among the key players in the siege — had been killed, including Omarkhayam Maute, believed to be the group's top leader.
Foreign Fighters
Presidential spokesman Ernesto Abella said in Manila the military is "validating an intelligence report" that Malaysian Mahmud bin Ahmad, who helped lead and finance the Marawi siege, was killed.
When asked about Mahmud's reported death, Malaysia's Inspector General of Police Khalid Abu Bakar told AFP in a text message in Kuala Lumpur: "Not true. He is still alive."
Abella said authorities were also verifying another intelligence report that 89 foreign fighters are in Mindanao, entering the region through the Philippines' porous maritime borders with Malaysia and Indonesia.
Galvez said troops on Friday recovered two decomposing corpses that bore features of people from the Middle East.
Eight other militants, including those from Chechnya, Indonesia and Malaysia, had been killed earlier in the fighting, officials have said.
Indonesia, Malaysia and the Philippines on June 19 launched joint patrols on their maritime borders to block the movement of the militants.
Australia said Friday it will send two high-tech spy planes to help Filipino troops fight the militants, joining the US which has also provided similar help.
Report by Ted Aljib in Marawi (Philippines) – AFP