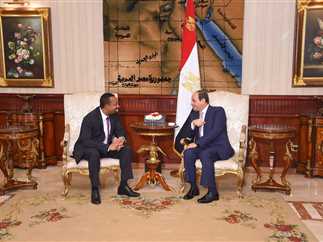 Egypt's Foreign Minister Sameh Shoukry announced that US President Donald Trump invited Egypt, Sudan and Ethiopia to a meeting in Washington on November 6 to resume negotiations on the Grand Ethiopian Renaissance Dam conflict, according to a statement issued by Shoukry on Tuesday, October 29.
"The US administration invited the three countries to meet in the United States on November 6 in the presence of representatives of the American administration to discuss breaking the deadlock in the ongoing negotiations," Shoukry said in a news conference during his visit to German foreign minister Heiko Maas.
On Thursday, October 24, the two concerned Presidents of Egypt and Ethiopia agreed to operate a technical committee working to approve the terms for constructing the dam, according to an Egyptian presidential spokesperson.
"It has been nearly eight years and nothing has changed in this quarrel, so I really hope to witness a solid agreement between the two sides," water expert Diaa El Kousy told Egypt Independent, affirming that the Ethiopian side did not respond helpfully to attempts to reach a successful agreement.
Kousy added that it would be better to solve the issue without American interference.
Since Ethiopia started constructing the dam, Egypt has voiced its fears that the project would negatively impact its water supply. The other side stated the importance of this project to the Ethiopian economy. Egypt relies considerably on the Nile for freshwater.
In 2017, EcoMENA released a report titled The Water Crisis in Egypt, listing the four main factors behind the scarcity in the country, including population explosion, inefficient irrigation, pollution and regional upheavals.
The same study discussed how these factors are behind an annual waste of roughly seven billion cubic meters of water. The UN in the 2018 UN World Water Development report that Egypt is below the UN's threshold of water poverty and will soon face more serious water shortages.
Water expert Ahmed Nour Abdel Moneim told Egypt Independent that the ongoing dispute will require a technical facilitator, not a political one.
"I am really hopeful about the upcoming meeting for bringing the viewpoints closer to one another," he said, also pointing out that statements issued by the Ethiopian side have always been contradictory, vague and fruitless.
He insisted that any interference on a technical level–not a political one–would be helpful.
Egypt said that it is crucial to include a fourth party mediator, suggesting the World bank, the United States, the European Union, or any entity that is well-experienced in water issues.
Ethiopia rejected the proposal, accusing Egypt of sidestepping the process.
Commenting on the latest discussions that took place in Khartoum over the past two months, Shoukry said of the disagreements, "The gap is getting wider."
Egypt recently presented a proposal to secure an annual flow of 40 billion cubic meters of water in addition to flexibility in reservoir-filling processes. Ethiopia rejected the request.
The filling of the reservoir is set to begin in 2020.