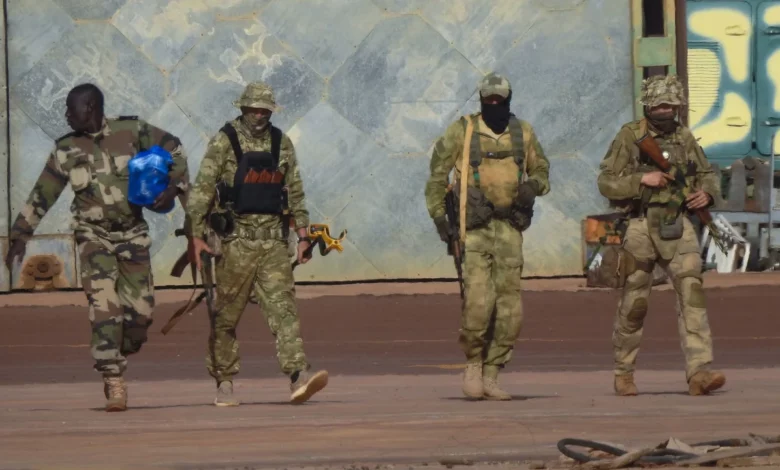 CNN
 —  The US Treasury has sanctioned the head of the
Wagner private military group
in Mali, Ivan Maslov, as part of its pushback against Wagner activities in Africa funneling support to Russia's war against Ukraine, according to a press release published on Thursday.
The sanctions come after a US official told CNN that Wagner has been trying to ship military equipment for use in Ukraine through Mali and falsifying paperwork for the transactions, citing recently declassified intelligence.
The Treasury also confirmed the findings of a CNN investigation into Wagner's support for the Sudan paramilitary Rapid Support Forces in the current war devastating the country.
"Today, the U.S. Department of the Treasury's Office of Foreign Assets Control (OFAC) sanctioned Ivan Aleksandrovich Maslov (Maslov), the head of Russian Private Military Company 'Wagner' (Wagner Group) paramilitary units and its principal administrator based in Mali," said the Treasury.
"The Wagner Group may be attempting to obscure its efforts to acquire military equipment for use in Ukraine, including by working through Mali and other countries where it has a foothold. The United States opposes efforts by any country to assist Russia through the Wagner Group," it added.
The US official told CNN last week there were no signs yet that Wagner has successfully procured the equipment, but the group has continued working to procure mines, drones, radar and counter-battery systems from contacts in Mali for use in Ukraine. "We are monitoring this closely," the official added.
Wagner has sought to expand its presence in Africa in recent years and has been operating alongside Mali's armed forces for more than a year, fighting against a jihadist insurgency. Russian Foreign Minister Sergey Lavrov said in September 2021 that the Malian government would be hiring private Russian mercenaries for help with security.
Under Secretary of the Treasury for Terrorism and Financial Intelligence Brian E. Nelson said: "Treasury's sanctions against the most senior Wagner Group representative in Mali identify and disrupt a key operative supporting the group's global activities.
"The Wagner Group's presence on the African continent is a destabilizing force for any country that allows for the deployment of the group's resources into their sovereign territory."
Maslov is a senior Wagner Group security official who was tasked by Wagner head Yevgeny Prigozhin and Dmitriy Valeryevich Utkin to lead the Wagner Group's mercenary units in Mali, according to the press release.
Both Prigozhin and Utkin have been sanctioned by the US, the UK, the EU and Canada.
"In his role as the Wagner Group's principal administrator, Maslov has secured living accommodations for the Wagner Group's incoming forces deployed to Mali. Maslov arranges meetings between Prigozhin and government officials from several African nations. Maslov has worked to carry out the Wagner Group's interests in the extractive sector," said the Treasury.
The press release added that Wagner has meddled in and destabilized countries in Africa, committed widespread human rights abuses and appropriated natural resources.
In Sudan, Wagner has also been supplying the country's Rapid Support Forces (RSF) with "surface-to-air missiles to fight against Sudan's army, contributing to a prolonged armed conflict that only results in further chaos in the region," the release said.
This comes after a CNN investigation revealed that Wagner had supplied Sudan's RSF with missiles to aid their fight against the country's army.