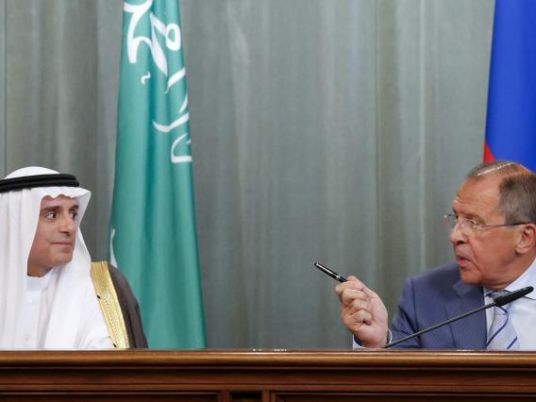 The United States, Russia, Turkey and Saudi Arabia met on Friday to explore a political solution to the Syrian civil war despite the basic US-Russian disagreement over Syrian President Bashar al-Assad's fate.
There were no outward signs of progress toward ending the four-year conflict as US Secretary of State John Kerry met Russian Foreign Minister Sergei Lavrov, after which they held four-way talks with their Saudi and Turkish counterparts.
Russia's three-week-old campaign of air strikes against Islamist groups opposed to Assad has halted a summer offensive by rebels, including some backed by the United States and its allies, which had eroded Assad's control in the heavily populated west of the country.
Russia has rejected Western calls for Assad to step down, saying Syria's leadership can only be decided by the Syrian people via elections, and in the clearest sign of its backing, Russian President Vladimir hosted him in Moscow this week.
Some diplomats and analysts believe Russia might be able to exploit its influence with Assad and its newly demonstrated military muscle in Syria's skies to broker a deal to end the conflict.
Speaking in Berlin on Thursday, Kerry said Assad himself was the central obstacle to resolving a conflict that has driven an estimated four million refugees into Turkey, Lebanon, Jordan and Iraq.
"One thing stands in the way of being able to rapidly move to implement that, and it's a person called Assad – Bashar al-Assad," Kerry told reporters before he held talks with German Foreign Minister Frank-Walter Steinmeier.
Speaking in Moscow on Friday, Putin's spokesman Dmitry Peskov suggested Russia regards Assad as central to any process, saying it was necessary to deal with him for a task as basic as telling different political factions in Syria apart.
"It is not proving possible to differentiate the moderate opposition … from various terrorist and extremist organisations," he told reporters in Moscow on Friday.
For his part, Steinmeier suggested the United States and Russia were still far apart. "We all know that ultimately the first steps into political solutions depend on whether Washington and Moscow find bridges towards each other," he said.
The German foreign minister also said his talks earlier this month in Saudi Arabia and Iran had "proven once more how deep the trenches are" between the two, which are supporting opposite sides in the conflict.
Shi'ite-majority Iran has backed Assad while Sunni-majority Saudi Arabia backs forces seeking to topple him.
Friday's talks included Saudi Foreign Minister Adel al-Jubeir and Turkish Foreign Minister Feridun Sinirlioglu.