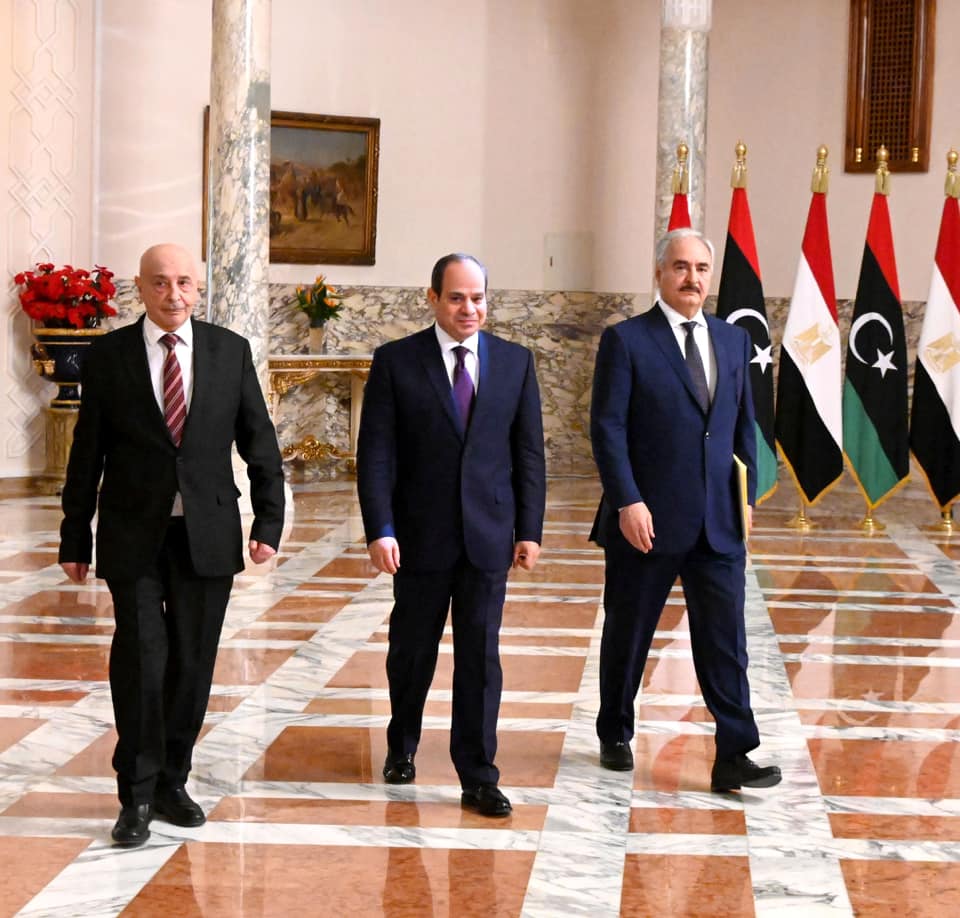 The United States of America, Russia, France, Greece and Germany have all issued statements welcoming the Cairo Declaration initiative, which was put forward by Egypt to settle the Libyan crisis.
The United States stated that it appreciates Egypt's efforts, with the US embassy in Libya emphasizing the need for the Libyan parties to return to peace negotiations under the auspices of the United Nations.
"The United States is watching with interest as political voices in the East of Libya find expression. We look forward to seeing these voices incorporated into a genuine nationwide political dialogue immediately following the resumption of the UNSMIL-hosted 5+5 talks on the modalities of a ceasefire," the US embassy in Libya tweeted on Saturday.
"We welcome efforts by Egypt and others to support a return to the UN-led political negotiations and the declaration of a ceasefire.  We call on all sides to participate in good faith to halt the fighting and return to the UN-led political negotiations," the embassy said.
Russia welcomed the Egyptian initiative, describing it as a "good basis" for launching the political process in Libya, according to Deputy Foreign Minister and Russian President's envoy to the Middle East and North African countries, Mikhail Bogdanov.
French Foreign Minister Jean-Yves Le Drian also confirmed in discussions with his Egyptian counterpart, Sameh Shoukry, that Paris highly values Cairo's efforts to stop the fighting in Libya.
Regional Director for the Near and Middle East and North Africa at the German Foreign Office Christian Buck said that Germany sees mixed signals from Libya because of political developments and developments in the field.
Buck said in a press statement that Libyan Army Commander-in-Chief Khalifa Hifter has made an encouraging commitment to the negotiations of the "5 + 5" ceasefire committee.
He pointed out that the interim Government of National Accord (GNA) had pledged to stop the fighting in Libya, but that it carried out military operations on Friday regardless.
Greece, meanwhile, welcomed Egypt's initiative via a statement from the Greek Ministry of Foreign Affairs: "We welcome Egypt's new initiative to solve the difficult Libyan dilemma."
It emphasized that the Egyptian initiative sheds light on the basic principles of the international community as stipulated in the UN Security Council resolutions and the Berlin conference results, namely respecting Libya's unity, integrity and independence.
Britain welcomed Egypt's efforts regarding the ceasefire in Libya, and stressed that the initiative should have the support of the United Nations. It called on all parties to the Libyan conflict to urgently engage in the 5 + 5 talks to find a solution to the conflict.
Edited translation from Al-Masry Al-Youm