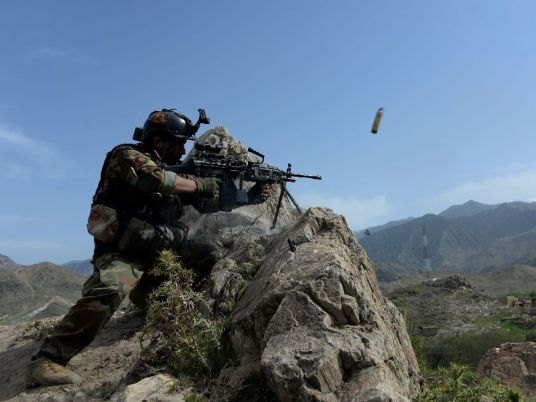 US Marines returned to Afghanistan's volatile Helmand Saturday, where American troops faced heated fighting until NATO's combat mission ended in 2014, in the latest sign foreign forces are being increasingly drawn back into the conflict.
The deployment of some 300 Marines to the poppy-growing southern province, first announced in January, came one day after the resurgent Taliban announced the launch of their "spring offensive", and as the Trump administration seeks to craft a new strategy in Afghanistan.
Commander of US and NATO forces in Afghanistan General John Nicholson attended a handover ceremony marking the return of the prestigious force, the Marines first to be deployed in Afghanistan since 2014, an AFP photographer said.
Part of a troop rotation, they will arrive in stages, eventually numbering some 300 who will take part in NATO's train, assist and advise mission.
Helmand for years was the centrepiece of the US and British military intervention in Afghanistan — only for it to slip deeper into a quagmire of instability.
The militants effectively control or contest 10 of Helmand's 14 districts, blighted by a huge opium harvest that helps fund the insurgency.
Around 30,000 people fled fighting in the province in 2016, mostly fleeing to provincial capital Lashkar Gah, with the city at times practically besieged. The roads from neighbouring districts are heavily mined by the insurgents.
The US has around 8,400 troops in Afghanistan with about another 5,000 from NATO allies. Nicholson has called for a few thousand more to help break the stalemate against the insurgents.
Pentagon chief Jim Mattis warned of "another tough year" in Afghanistan when he visited Kabul this week as part of consultations on the Trump administration's review of Afghan policy.
Mirza Mohammad Yarmand, a retired Afghan general based in Kabul, was optimistic.
"If the Afghan forces and the US Marines jointly fight the phenomenon of the terrorism in southern Helmand, we will have tangible results," he told AFP.
Afghan quagmire
Most US forces in Afghanistan are taking part in NATO's training mission, seeking to boost embattled Afghan forces who have been straining to beat back the militants since international forces ended their combat mission in 2014.
Afghanistan has seen intensified Taliban attacks across the country, leaving Afghan forces — already beset by killings, desertions, and vacuums in leadership and morale — stretched on multiple fronts.
They have faced soaring casualties, up 35 percent in 2016 with 6,800 soldiers and police killed, according to a US watchdog.
Last week the Taliban delivered a stinging blow, with militants dressed in Afghan army uniforms slaughtering at least 135 young recruits at a base near northern Mazar-i-Sharif city, according to official figures — though multiple sources have said the death toll is much higher.
The attack is believed to be the deadliest by the Taliban on a military target since they were driven from power in 2001. The group vowed more in the statement announcing their so-called "spring offensive" Friday.
With more than one third of Afghanistan outside of government control, civilians also continue to bear a heavy brunt, with thousands killed and wounded each year. Children are paying an increasingly disproportionate price, according to UN figures.
Afghanistan is by far the world's largest opium producer, driven largely by growth in Helmand. The UN estimates 2016 production at 4,800 to 6,000 tons, up sharply from 3,300 tons in 2015, while cultivated areas have increased by 10 percent in one year.
The Marines were among the first US forces sent to Afghanistan after the 2001 terror attacks in the United States. Several thousand were deployed in Helmand, where they engaged in bitter combat with the Taliban insurgency.