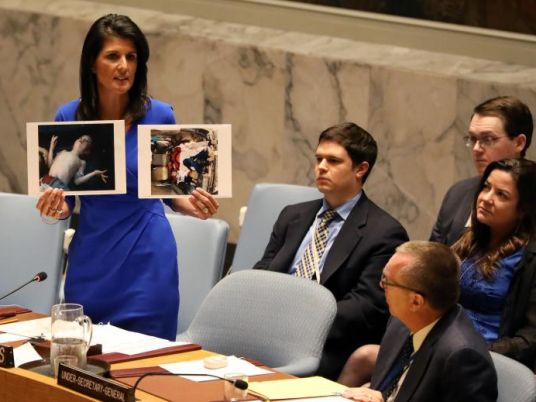 The United States on Tuesday held what it dubbed a historic UN Security Council meeting on the link between rights abuses and conflict, but dropped a push for the broad issue to become a council fixture after at least six members opposed it.
Diplomats said Russia, China, Egypt, Ethiopia, Kazakhstan and Bolivia were against the move and that the United States, council president for April, did not risk the measure being put to a rare procedural vote as Senegal's support was uncertain.
Such a vote requires nine in favor, and vetoes by the United States, Britain, France, Russia and China cannot be used.
The opposing council members say rights discussion should be confined to the Geneva-based Human Rights Council – which Washington accuses of being anti-Israel and has threatened to quit – and the 193-member UN General Assembly third committee.
Egypt also voiced concern that some countries used human rights as a "back door" to undermine state sovereignty, citing Iraq and Libya as examples.
Security Council discussions of human rights situations in specific countries, such as Syria, North Korea and Myanmar, are not new and most of the 16 UN peacekeeping missions include human rights mandates approved by the council.
"We've never dedicated a meeting to the broader question of how human rights violations and abuses can lead to a breakdown in peace and security," US Ambassador to the United Nations Nikki Haley told the council.
She said rights abuses were "one of the clearest possible indicators that instability and violence may follow and spill across borders."
Haley had said Tuesday's meeting was not intended to single out any countries – although she referred in her council statement to North Korea, Syria, Burundi and Myanmar – which left some questioning what it would achieve.
"They're putting on a show of paying attention to human rights in the Security Council, but not paying attention to any actual humans or any actual rights," former Obama administration deputy UN envoy David Pressman said. "What's the point?"
Akshaya Kumar, deputy UN director at Human Rights Watch, said the meeting would serve little purpose unless Washington was prepared to address its own rights record and rights abuses committed by its allies.
"If the Trump administration wants to burnish its reputation on rights it should address problems at home such as its discriminatory travel ban on people from six Muslim majority countries," she said in a statement.
(Reporting by Michelle Nichols; Editing by Peter Cooney)