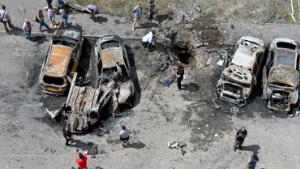 Western leaders gathering at the G7 have decided to try capping the price of Russian oil, officials say.
It's the latest step toward punishing Moscow while attempting to mitigate the economic effects of the war in Ukraine.
How, when and by how much the price of Russian oil will be capped remains to be seen. Officials said the precise mechanism for accomplishing the cap was still being worked out.
Leaders said they will instruct their teams to work toward finding a way to limit the price at which Russia can sell its oil, depriving Moscow of a key revenue source.
"The goal here is to starve Russia, starve (Russian President Vladimir) Putin of his main source of cash and force down the price of Russian oil to help blunt the impact of Putin's war at the pump," said a senior US administration official.
As oil prices have skyrocketed, Russia's oil revenues are actually up despite global import bans. Leaders want to use their collective leverage to cut the revenue Russia receives from the countries still purchasing its oil.
How, exactly, is not clear. An official suggested the G7 nations have leverage through oil transportation networks that could help toward applying the cap.
More sanctions: G7 leaders also plan to announce a lengthy set of new sanctions, including on Russian defense supply chains, Russians responsible for human rights abuses and war crimes, private military companies and new visa restrictions on 500 officials.
New funding: The US will also announce $7.5 billion in new funding for Ukraine, part of a broader commitment from G7 nations to help the country make up its budgetary shortfalls.